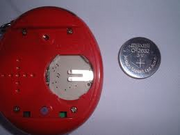 When a Tamagotchi batteries run out, they should be replaced. The batteries are hidden behind a lid on the back of most Tamagotchi. The batteries can be removed from their recess using screwdriver or a sharp, thin utensil such as a toothpick, open paperclip, or plastic needle.
Classic Tamagotchis use CR2032 batteries. In modern Japanese Tamagotchis, such as the Tamagotchi Plus Color or Tamagotchi iD L, AAA batteries (単4 tan 4) are needed, although American batteries work fine as well.
It is recommended that the Tamagotchi owner do not use mixed brands of batteries or old and new batteries.
Ad blocker interference detected!
Wikia is a free-to-use site that makes money from advertising. We have a modified experience for viewers using ad blockers

Wikia is not accessible if you've made further modifications. Remove the custom ad blocker rule(s) and the page will load as expected.