Daiyatchi (

だいやっち

)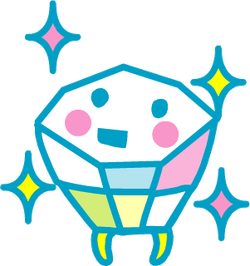 Genders and Releases:
Sprites:


Daiyatchi (だいやっち Daiyatchi) is a male teenager Ura Tamagotchi character who debuted on the Japanese Ura Jinsei Enjoy Tamagotchi Plus and then on the American Tamagotchi Connection Version 4.5 before making his latest but also first appearance on a color Tamagotchi; the Tamagotchi iD L 15th Anniversary Version. As of now, Daiyatchi is a child-stage character since having his growth stage change for his appearance on the 15th Anniversary iD L.
Appearance
Daiyatchi's body is shaped like a diamond. He has small yellow legs, round eyes, and pink cheeks. He seems to sparkle almost constantly.
Personality
Daiyatchi resembles a diamond and loves to sparkle, and has a hard outside but a soft inside.
On Virtual Pets
Uratama and Tamagotchi Connection Version 4.5
Daiyatchi is a male UraMeme group teen and is obtained with good care.
15th Anniversary iD L
Daiyatchi is now a male toddler who evolves randomly from Hyurutchi and can evolve into either Kujakutchi or Sunnytchi.
Name Origin
Daiyatchi's name comes from "diamond" (ダイヤモンド daiyamondo).
Gallery
Ad blocker interference detected!
Wikia is a free-to-use site that makes money from advertising. We have a modified experience for viewers using ad blockers

Wikia is not accessible if you've made further modifications. Remove the custom ad blocker rule(s) and the page will load as expected.