Donguritchi
(どんぐりっち)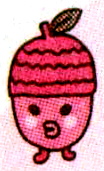 Genders and Releases:
Sprites:

Donguritchi (どんぐりっち) is a male teen character who only appears on the TamagoChu.
Appearance
Donguritchi resembles an acorn with eyes, feet, and a green leaf on his stem.
Name Origin
"Donguri" (どんぐり) is Japanese for acorn.
Appearances on Virtual Pets
TamagoChu
Donguritchi is one of the three male teen characters that can be chosen. He evolves into Kuchipatchi.
Ad blocker interference detected!
Wikia is a free-to-use site that makes money from advertising. We have a modified experience for viewers using ad blockers

Wikia is not accessible if you've made further modifications. Remove the custom ad blocker rule(s) and the page will load as expected.