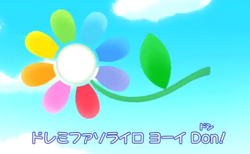 Doremi Fasorairo (ドレミファソライロ Doremi Fasorairo) is the first opening theme of the anime Tamagotchi! Yume Kira Dreams. It is sung by Dream5 as the 2nd track of their 9th single COME ON!/Doremi Fasorairo released on February 6, 2013. The title is a portmanteau between the musical scale "Do-re-mi-fa-so-la-ti" and "the color of the sky" (空色 sorairo).
Details
Japanese
Singer: Dream5
Publisher: avex trax
Lyrics: leonn
Composition/Arranging: Hirofumi Hibino
Lyrics
Japanese (日本語)
Rōmaji

たまとも たまもり
ドレミファソライロヨーイDon!
ワクワクでいっぱい! どんなもんだい! たまとも!
いろんなゆめをかなえに さあいこうよ!
ドキドキがいっぱい! なんだかんだ! たまもり!
いっしょにいっぽ ふみだそう!
そうだよ きみなしじゃ
なんにもはじまんない
てをつないで
あのそらに Take off!
ソラシド ソライロ まっしろなキャンバス
みんなのきほうで あおそらをえがこう
ソラシド ソラには サンサンたいようが
みんなのみらいを キラキラてらしてる
たまとも たまもり
ドレミファソライロヨーイDon!

Tamatomo tamamori
Doremifasorairo yōi Don!
Wakuwaku de ippai! Don'na mondai! Tamatomo!
Iron na yume o kanae ni sā ikō yo!
Dokidoki ga ippai! Nandaka nda! Tamamori!
Issho ni ippo fumidasō!
Sō da yo kimi nashi ja
Nan ni mo hajiman'nai
Te o tsunaide
Ano sora ni Take off!
Sorashido sorairo masshiro na kyanbasu
Min'na no kihō de aosora o egakō
Sorashido sora ni wa sansan taiyō ga
Min'na no mirai o kirakira terashiteru
Tamatomo tamamori
Doremifasorairo yōi Don!
Videos
Ad blocker interference detected!
Wikia is a free-to-use site that makes money from advertising. We have a modified experience for viewers using ad blockers

Wikia is not accessible if you've made further modifications. Remove the custom ad blocker rule(s) and the page will load as expected.