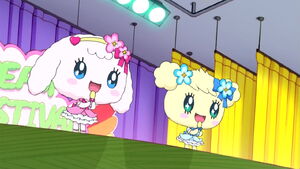 Eh!? We Have Transformed Into Idols!? (え~!?アイドルに変身しちゃった!? E~!? Aidoru ni henshin shichatta!?) is episode 2 of Tamagotchi! Yume Kira Dream. It first aired on September 17, 2012. The creator of the episode is Matsui Aya.
Plot
Kiraritchi and Yumemitchi decided to try out the bags that the old woman gave them, only to bring a surprising result.
Cast
Main
Secondary
Gallery
Main Article: Tamagotchi! Yume Kira Dream/Episode Gallery/Episode 2 (145)
Ad blocker interference detected!
Wikia is a free-to-use site that makes money from advertising. We have a modified experience for viewers using ad blockers

Wikia is not accessible if you've made further modifications. Remove the custom ad blocker rule(s) and the page will load as expected.