This article is a stub!
You can help the Tamagotchi Wikia by expanding it.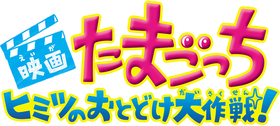 Eiga Tamagotchi: Himitsu no Otodoke Dai Saisuken! 映画たまごっち ヒミツのおとどけ大作戦! is a Tamagotchi short film that was released with the Kami-Sama Minarai: Himitsu no Cocotama movie on April 28th, 2017. The movie was made in celebration of the 20th anniversary of the Tamagotchi brand.
Characters
Minor Appearances
Plot
The Tama-Friends are given the task of delivering an important package to the Gotchi King when a strange machine targets the package.
Trivia
This is the first Tamagotchi film released ever in nine years.[1]
The voice actors who voiced Mametchi, Memetchi and Kuchipatchi in Tamagotchi! anime reprise their roles in this short film.[2]
Gallery
References
↑ Komatsu, Mikikazu. (2016 Nov 1). "Tamagotchi" 20th Anniversary Short Film Slated for Spring 2017. Crunchyroll. Accessed Nov 6, 2016.