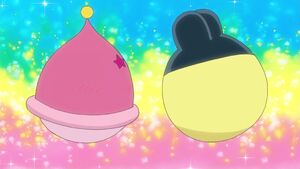 Fashion! The Best? Eggs of Style (流行!サイコー?タマゴ化スタイル Ryūkō! Saikō? Tamago-ka sutairu) is episode 140 and part 1 of a four-part episode series of Tamagotchi!. It aired on August 13, 2012. The creator of the episode is Matsui Aya.
Plot
Everybody goes on normal with their normal lives. However, a mysterious curse soon afflicts everybody in Tamagotchi Town, in which everyone is entirely unaware of.
Cast
Main
Secondary
Gallery
Main Article: Tamagotchi!/Episode Gallery/Episode 140
Ad blocker interference detected!
Wikia is a free-to-use site that makes money from advertising. We have a modified experience for viewers using ad blockers

Wikia is not accessible if you've made further modifications. Remove the custom ad blocker rule(s) and the page will load as expected.