Getatchi
(げたっち)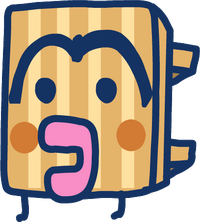 Genders and Releases:
Sprites:

Getatchi (げたっち) is a child Tamagotchi that appears on the Chou Jinsei Enjoi Tamagotchi Plus. 
Appearance
Getatchi resembles an upright wooden sandal with two tiny, stick-like legs. It has dark round eyes, a pink beak, and brown cheeks. It has a sandal strap on its forehead which resembles a unibrow.
Personality
Getatchi's laughter sounds like "keta-keta". When it gets angry its toe-strap breaks. Since it takes three days to repair, Getatchi has learned patience.
On Virtual Pets
Chou Jinsei Enjoi Tamagotchi Plus
Getatchi evolves from a Hatenatchi who was born using Dating Card #2, and evolves into Rakugotchi.
Name Origin
Geta are a type of traditional Japanese wooden sandals.