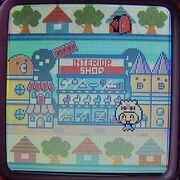 Gotchi interior
is a shop that is featured in all colour versions of Tamagotchis such as the
Tamagotchi iD L
. It was also used in the
TamaTown Tama-Go
, which is the only English version with the interior design feature. In the store users can purchase different designs to decorate the rooms in the Tamagotchi's house: Living room, bedroom, kitchen, and the two bathrooms (one with a bath and one with a toilet).
Trivia
Gotchi interior adds a 3D effect.
On the Tama-Go, it disappears if it is left alone for a long peorid of time.
This article is a stub!
You can help the Tamagotchi Wikia by expanding it.
Ad blocker interference detected!
Wikia is a free-to-use site that makes money from advertising. We have a modified experience for viewers using ad blockers

Wikia is not accessible if you've made further modifications. Remove the custom ad blocker rule(s) and the page will load as expected.