This article is a stub!
You can help the Tamagotchi Wikia by expanding it.
HAPPY All the Way for Sure! (きっと ずっと HAPPY! Kitto Zutto HAPPY!) is the first ending theme of the anime Tamagotchi! Yume Kira Dreams. It is written by leonn, composed by Yuusi Hibino, and sung by Dream5.
Lyrics
Japanese (日本語)
Rōmaji

夢(ゆめ)の中(なか)だって一緒(いっしょ)だよ
明日(あした)は きっと もっと Happy!
オハヨウ 今日(きょう)も一日(いちにち)ヨロシクね
テンション低(ひく)い朝(あさ)も
みんなに会(あ)えば もう元気(げんき)
イタダキマス 騒(さわ)がしいランチタイムは
ワイワイ ガヤガヤ パーティー気分(きぶん)
みんな一緒(いっしょ)に盛(も)り上(あ)がって
アリガトウ いいえドウイタシマシテ
助(たす)け合(あ)い肩寄(かたよ)せ合(あ)い
ハジメマシテ 笑(わら)い合(あ)えば ほら
Eye to Eye で Best Friend!
失敗(しっぱい)したら素直(すなお)にゴメンネでOK!
あっという間(ま)にこんな時間(じかん)だね
またね バイバイ
あんなコトや こんなコトとか
今日(きょう)もとびっきり楽(たの)しかったね
夢(ゆめ)の中(なか)だって一緒(いっしょ)だよ
明日(あした)も きっと ずっとHappy!

yume no naka datte issho da yo
ashita wa kitto motto Happy!
OHAYOU kyou mo ichinichi YOROSHIKU ne
TENSHON hikui asa mo
minna ni aeba mou genki
ITADAKIMASU sawagashii RANCHITAIMU wa
WAI WAI GAYA GAYA PAATII kibun
minna issho ni moriagatte
ARIGATOU iie DOUITASHIMASHITE
tasukeai katayoseai
HAJIMEMASHITE waraiaeba hora
Eye to Eye de Best Friend!
shippaishitara sunao ni GOMENNE de OK!
atto iu ma ni konna jikan da ne
mata ne BAI BAI
anna KOTO ya konna KOTO toka
kyou mo tobikkiri tanoshikatta ne
yume no naka datte issho da yo
ashita mo kitto zutto Happy!

Rōmaji by Umbreon126
Videos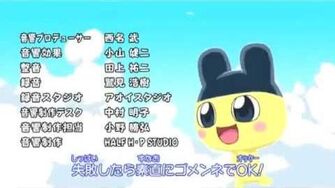 Ad blocker interference detected!
Wikia is a free-to-use site that makes money from advertising. We have a modified experience for viewers using ad blockers

Wikia is not accessible if you've made further modifications. Remove the custom ad blocker rule(s) and the page will load as expected.