This article is a stub!
You can help the Tamagotchi Wikia by expanding it.
Ha Island
(
ハー島 Hā shima
) short for
Heart Island
(
ハート島 Hāto shima
),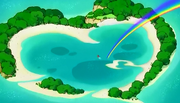 is a small island in the
Tamagotchi!
anime. The island is shaped as a hollow heart with a rainbow which doubles as the entrance and exit to the island. It is the home of 
Kizunatchi
,
Hatokamitchi
 and
Denshohatotchi
.
The legendary Ice Tama Heart is found here at the bottom of a small lake, called the Legendary Water (伝説の水 Densetsu no mizu). The island also has its own special fruit, called Heart Berries (ハートベリー).
Ad blocker interference detected!
Wikia is a free-to-use site that makes money from advertising. We have a modified experience for viewers using ad blockers

Wikia is not accessible if you've made further modifications. Remove the custom ad blocker rule(s) and the page will load as expected.