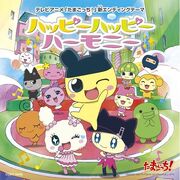 Happy Happy Harmony (ハッピーハッピーハーモニー) is the song used for the ending credits of episodes 49 to 73 of Tamagotchi!, debuting September 27, 2010. It was then released on CD on December 1, 2010. Happy Happy Harmony is a hugely popular song in Tamagotchi!, and it is also used on the Tamagotchi iD L for when a Happy Stamp is obtained.
The song is performed by Lovelitchi on vocals, and Melodytchi on violin. Lovelitchi created the lyrics with the help of her Tama-Friends.
Happy Happy Harmony also has another version, Happy Happy Birthday that was released on Mametchi's Birthday (Tamagotchi's Birthday) on November 2010.
In the anime Tamagotchi!, Happy Happy Harmony was only performed in front of friends and family, until episode 89 when it was performed live at TAMAX-TV in Lovelin and Melodytchi's Super Live Concert.
A special rock-style version of Happy Happy Harmony released on the 19th of November, exclusively on the Ready GO Hasha GO Daishu GO! Tamagotchi!. The special version features Yumemitchi and Kiraritchi singing along with Lovelin, and the Kirakira Girls playing along with Melodytchi and her violin. It later appeared in the finale episode of GO-GO Tamagotchi!
A similar song to Happy Happy Harmony is Happy Heart, which is also performed by Lovelitchi and Melodytchi.
An English version has not yet been made.
Lyrics
Japanese (日本語)
Rōmaji

「1、2、1、2、3 4!」
ミュージック スタート
世界中がくるりと 元気になるよ
ラ、ララ、ル、ララ ロマンチックにコーラス
音符たちがふわりと 空へ浮かぶよ

せーのでかかる魔法 ミラクルショータイム
そうよ ふたりで一緒がパワーになるの

ハッピーハッピーハーモニー!
ハッピーハッピーハーモニー!
楽しいね ワクワクのはじけるメロディ
ハッピーハッピーハーモニー!
ハッピーハッピーハーモニー!
大好きよ キラキラのスマイル
ねぇもっともっと ハートを鳴らしてGo!


「みんな、いくよー!」
ミュージック マジック
トキメキのリズムを つま先で刻んで
ラ、ララ、ル、ララ ロマンチックにアクセント
ドキドキのフォルテで 気持ちを込めてね

イヤなことでもピョンと スタッカートスキップ
ほらね みんなと一緒が最高のステージ

ハッピーハッピーハーモニー!
ハッピーハッピーハーモニー!
嬉しいね ワクワクのはじけるメロディ
ハッピーハッピーハーモニー!
ハッピーハッピーハーモニー!
大切な キラキラのスマイル
ねぇもっともっと ハートを揺らしてGo!

ハッピーハッピーハーモニー!
ハッピーハッピーハーモニー!
楽しいね ワクワクのはじけるメロディ
ハッピーハッピーハーモニー!
ハッピーハッピーハーモニー!
大好きよ キラキラのスマイル
ねぇもっともっと ハートを鳴らしてGo!

"1, 2, 1, 2, 3 4!"
MYUUJIKKU SUTAATO
sekaijuu ga kururi to genki ni naru yo
RA, RARA, RU, RARA ROMANCHIKKU ni KOORASU
onpu-tachi ga fuwari to sora he ukabu yo

seeno de kakaru mahou MIRAKURU SHOOTAIMU
sou yo futari de issho ga PAWAA ni naru no

HAPPII HAPPII HAAMONII!
HAPPII HAPPII HAAMONII!
tanoshii ne WAKUWAKU no hajikeru MERODI
HAPPII HAPPII HAAMONII!
HAPPII HAPPII HAAMONII!
daisuki yo KIRAKIRA no SUMAIRU
nee, motto motto HAATO wo narashite Go!


"minna, iku yoo!"
MYUUJIKKU MAJIKKU
TOKIMEKI no RIZUMU wo tsumasaki de kizande
RA, RARA, RU, RARA ROMANCHIKKU ni AKUSENTO
DOKIDOKI no FORTE de kimochi wo komete ne

IYA na koto demo PYON to SUTAKKAATO SUKIPPU
hora ne minna to issho ga saikou no SUTEEJI

HAPPII HAPPII HAAMONII!
HAPPII HAPPII HAAMONII!
ureshii ne WAKUWAKU no hajikeru MERODI
HAPPII HAPPII HAAMONII!
HAPPII HAPPII HAAMONII!
taisetsu na KIRAKIRA no SUMAIRU
nee motto motto HAATO wo yurashite Go!

HAPPII HAPPII HAAMONII!
HAPPII HAPPII HAAMONII!
tanoshii ne WAKUWAKU no hajikeru MERODI
HAPPII HAPPII HAAMONII!
HAPPII HAPPII HAAMONII!
daisuki yo KIRAKIRA no SUMAIRU
nee, motto motto HAATO wo narashite Go!

Rōmaji by Umbreon126
Happy Happy Birthday Version
Japanese (日本語)
Rōmaji

ミュージックスタート!
せかいじゅうがぐるりとげんきになるよ
ラーラッラルララー
ロマンチックにコーラス
おんぷたちもみんなできみをいわうよ

せーのでかかるまほうミラクルバースデー
そ う よ
きみといっしょがパワーになるの

ハッピーハッピーバースデー
ハッピーハッピーバースデー
たのしいねわくわくのはじけるメロディー
ハッピーハッピーバースデー
ハッピーハッピーバースデー
だいすきよまめっちのスマイル
ねぇもっともっとハートをならしてGo!

MYUUJIKKU SUTAATO!
sekaijuu ga gururi to genki ni naru yo
RAARARRA RURARAA
ROMANCHIKKU ni KOORASU
onputachi mo minna de kimi wo iwau yo

seeno de kakaru mahou MIRAKURU BAASUDEE
so o yo
kimi to issho ga PAWAA ni naru no

HAPPII HAPPII BAASUDEE
HAPPII HAPPII BAASUDEE
tanoshii ne wakuwaku no hajikeru MERODII
HAPPII HAPPII BAASUDEE
HAPPII HAPPII BAASUDEE
daisuki yo mamecchi no SUMAIRU
nee motto motto HAATO wo narashite Go!

Rōmaji by Umbreon126
Gallery
Image
Video