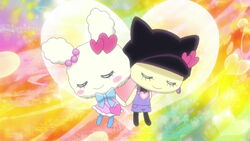 Happy Heart (ハッピーハート Happī Hāto) was released in Japan on 2011/09/05, in episode 95 of Tamagotchi!; the same episode where Lovelitchi and Melodytchi changed into their Tamatomo Tama Heart forms.
The song is sung by Lovelitchi and the music is performed by Melodytchi on her Melody Violin.
The full version of the song first appeared in episode 137 of Tamagotchi!, as background music along with Lovelitchi singing. It was later released on the Ready GO Hasha GO Daishu GO! Tamagotchi! CD.
Lyrics
Japanese Lyrics
Japanese (日本語)
Rōmaji

一緒にいる それだけで
キミがくれる わ・く・わ・く
すごく 元気になるんだ
キミが くれる 頑張ろう
1人だと できないけど
キミとならできる 「ミ・ラ・ク・ル」
大きな声で まっすぐ キミに言うよ「ダ・イ・ス・キ」
気持ちと気持ち ぴたっと くっついて
何百倍のパワーだね
それって もう 無限大のハッピー
ハート フルルン フルルン フルフルン ハッピーハート
キラキラ フレフレフレフレ フレンズ
みんな 最高「YEAH」
ハート ウルルン ウルルン ウルフルン ハッピーハート
ドキドキしちゃう ストーリー
みんなで描こう

issho ni iru sore dake de
KIMI ga kureru wa ku wa ku
sugoku genki ni naru n da
KIMI ga kureru ganbarou
hitori da to dekinai kedo
KIMI to nara dekiru "MI RA KU RU"
ooki na koe de massugu KIMI ni yuu yo "DA I SU KI"
kimochi to kimochi pitatto kuttsuite
nan-byaku bai no PAWA da ne
sore tte mou mugendai no HAPPII
HAATO FURURUN FURURUN FURUFURUN HAPPII HAATO
KIRA KIRA FURE FURE FURE FURE FURENZU
minna saikou "YEAH"
HAATO URURUN URURUN URUFURUN HAPPII HAATO
DOKI DOKIshichau SUTOORII
minna de egakou

Rōmaji by Umbreon126
Full version
Japanese (日本語)
Rōmaji

一緒(いっしょ)にいる それだけで
きみがくれるワ・ク・ワ・ク
すごく元気(げんき)になるんだ
きみがくれる「がんばろう」
一人(ひとり)だとできないけど
きみとならできる ミラクル!
大(おお)きな声(こえ)でまっすぐ
きみに言(ゆ)うよ「ダ・イ・ス・キ」
気持(きも)ちと気持(きも)ちピタッとくっついて
何百倍(なんびゃくばい)のパワーだね
それってもう無限大(むげんだい)のハッピー
ハート ウルルン ウルルン ウルウル
ハッピーハート
ドキドキしちゃうストーリー
みんなで描(えが)こう
心(こころ)と心(こころ) ギュゥ っとつながって
何百倍(なんびゃくばい)の ギュゥ だね
それってもう無限大(むげんだい)のハッピー
もっと ハート フルルン フルルン フルフル ハッピーハート
キラキラ フレフレフレフレフレンズ
宝物(たからもの)だよ
ハート ウルルン ウルルン ウルウル ハッピーハート
一緒(いっしょ)に夢(ゆめ)の全部(ぜんぶ)を
みんなでわたろう

issho ni iru sore dake de
kimi ga kureru WA KU WA KU
sugoku genki ni naru n da
kimi ga kureru "ganbarou"
hitori da to dekinai kedo
kimi to nara dekiru MIRAKURU!
ooki na koe de massugu
kimi ni yuu yo "DA I SU KI"
kimochi to kimochi PITATto kuttsuite
nan-byaku bai no PAWAA da ne
sore tte mou mugendai no HAPPII
HAATO URURUN URURUN URUURU
HAPPII HAATO
DOKI DOKIshichau SUTOORII
minna de egakou
kokoro to kokoro GYUU tto tsunagatte
nan-byaku bai no GYUU da ne
sore tte mou mugendai no HAPPII
motto HAATO FURURUN FURURUN FURUFURU HAPPII HAATO
KIRA KIRA FURE FURE FURE FURE FURENZU
takaramono da yo
HAATO URURUN URURUN URUURU HAPPII HAATO
issho ni yume no zenbu wo
minna de watarou

Rōmaji by Umbreon126
Trivia
Videos