This article is a stub!
You can help the Tamagotchi Wikia by expanding it.
The Hexagontchi (ヘキサゴンっち Hekisagontchi) is an extended versison of Tamagotchi Plus Color which comes with a bonus hexagon room style. It is based on a Japanese quiz show.
Design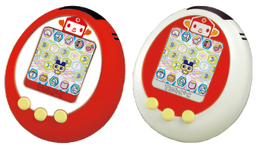 The Hexagontchi comes in two shell designs: A red shell with white oval around the screen, and a white shell with a red oval around the screen. Both designs have three cream-colored buttons, a black sensor, and the Hexagontchi logo.
Gameplay
The Hexagontchi features a fair amount of Japanese text. In order to earn the happy items on this version, the player must answer a Japanese quiz show question.
Mini-Games
The Hexagontchi features three new mini-games.
Pick Up Hexagon
Flip Over 15!
Wrong Balloons
Characters
See Hexagontchi/Character List
The Hexagontchi has 27 characters total. Most of the characters are the same from the Tamagotchi Plus Color, but a few have been introduced. The new characters are Tensaitchi, Tensaitchi Jr., Mimitchi, Sebiretchi, and Nonbiritchi.
Gallery
Ad blocker interference detected!
Wikia is a free-to-use site that makes money from advertising. We have a modified experience for viewers using ad blockers

Wikia is not accessible if you've made further modifications. Remove the custom ad blocker rule(s) and the page will load as expected.