Himespetchi
Comments

5
1,284pages on
this wiki
Himespetchi
(ひめスぺっち)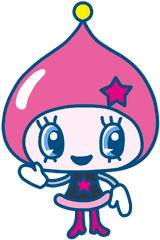 Genders and Releases:
Sprites:


Himespetchi (ひめスぺっち Himesupetchi) is an adult female Tamagotchi character who made her debut in episode 114 of the anime TV show, Tamagotchi! and continued to appear in Tamagotchi! Yume Kira Dream until she returned to her home planet in episode 35. She returns again in GO-GO Tamagotchi!
Although she does appear on the Tama Profy as a Tama Profile, she needs a password to be unlocked. She also later appeared on the Tamagotchi iD L Princess Spacy ver., which was released in March 2012, and is featured on the Tamagotchi P's. She is also raisable on the newest English release, Tamagotchi Friends.
Her birthday is February 14, which is Valentine's day, explaining why she is romantic.
Personality
Himespetchi is a lot smarter than Spaceytchi and enjoys cooking. She is in love with Mametchi, and tries to keep her crush for him as a secret, but isn't very good at hiding it at times. She is daydreaming about him most of the time, appearing as the Ikemen (Good looking man) of her dreams, Ikemen Mametchi. One day she dreams of marrying him.
She is very friendly and out-going. She isn't shy like Spaceytchi is when in public, but sometimes she can get nervous when Mametchi is around because of her crush. She often tries to folllow Mametchi around and has the tendency to be in the wrong place at the wrong time which can easily lead her to believe that he has feelings for other girls instead of her. This can upset her and sometimes make her jealous; sometimes leading to conversations with her conscience.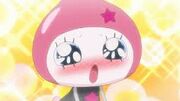 Spaceytchi also has a crush on her but she doesn't take interest in him and she would rather pursue Mametchi even though he doesn't seem to show any return of her feelings. 
She and Spacytchi knew each other when they were young back on their home planet.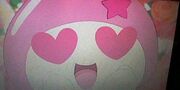 Himespetchi's two famous catchphrases are Gigakyun (ギガキュン) and Gigashyun (ギガシュン). In the Tamagotchi Friends webisodes, she instead says "Giga crush".
She also is frightened of snails and slugs.
"Gigakyun!"

– Himespetchi
Himespetchi made her official debut in the anime in episode 114. She has since then became a member of the original Tama-Friends. She is voiced by Yukana.
Himespetchi is very out-going and good at making friends. She is also popular in the school because of her fortune telling phone. She's smart and enjoys cooking, and she loves Mametchi - it was love at first sight. She wants to be close to Mametchi whenever she gets the chance. However, she gets very nervous when he's around or when he is talking to her. Whenever she sees him she often imagines he will tell her that he loves her, but when it turns out he doesn't she gets disappointed. She also sometimes gets jealous of other girls whenever they spend time with Mametchi, and sometimes she mistakes the things they do as displays of affection.
Also in the anime, Himespetchi sees Mametchi differently from her friends. It is because she likes him so much that she sees him with eyelashes and eyebrows, and also with longer arms and legs, with flowers and sparkles around him. Himespetchi eyes also become heart-shaped.
Prince Tamahiko had a short crush on her in episode 129. In this episode, Himespetchi fell down the stairs while imagining herself kissing Mametchi and lost her memory. She remembered that there was someone she likes, but thinks it was Prince Tamahiko and so she develops a crush on him. Himespetchi gets her memory back and remembers her love for Mametchi, but this time Prince Tamahiko loses his memory and starts liking Himespetchi instead of Princess Tamako.
She is one of the girls who can take Mametchi's bad singing voice, but she pretends she hates it so others don't wonder why she can tolerate it (it is because she loves him).
Himespetchi goes to Dream Town at night and by morning she is already enrolled at Dream School, Mametchi and his friends are very surprised to see her there; she then chooses to go to robot class to be with Mametchi. In class she is about to say her dream is to be with him, but instead, changes the topic by showing everyone her phone pretending to be more interested in electronics. Taikotchi teaches her to play the drums so Himespetchi becomes the drum player in Kira Kira Girls.  In episode 34 she leaves Dream Town and back to her home in space. She didn't return to Tamagotchi Planet until the GO-GO Tamagotchi! series.
GO-GO Tamagotchi!
Himespetchi returns in a wedding dress and princess crown soon after the Tamagottsun. Her parents allowed her to go because they want her to search for a prince to marry. However, Himespetchi is still to shy to tell Mametchi that she wants to marry him. Luckily, she becomes friends with Neenetchi, who helps Himespetchi become more confident.
Himespe Phone
Main article: Himespe Phone
The Himespe Phone is Himespetchi's special phone thats she uses the tell the future. She often uses it in the anime on how to win Mametchi's heart.
Appearance
Himespetchi strongly resembles Spaceytchi and his brothers, but without the horns and beak. She has smooth, shiny pink costume-looking skin, hot pink boots, a light peach colored face, white gloves, a black dress with fluffy ends and a star in the middle, and a hot pink star on the top left of her forehead.
Without her boots, she has skinny light pink legs the same color as her face. They are skinnier than Melodytchi's and Lovelitchi's, but not as skinny as Memetchi's.
Her body is usually depicted as being light pink (the same color as her face) such as her legs when she is not wearing her boots. On the Princess Spacy iD L when she wears a dress with a low front, one can also see she is light pink. However, the Himespetchi plush Bandai made has an all over light gray body (the same color as her arms).
Name Origin
Hime (ひめ hime) meaning princess, and spe (スペ supe) short for space (スペース supēsu).
Trivia
According to Himespetchi's profile on the Tama Profy, she loves Mametchi so much she even calls him Mametchi-Sama, even though she is a princess. She does not call him Mametchi-Sama anywhere else. This is likely due to her first designing, but was later removed to calling Mametchi, Mametchi-Sama.

Sama (さま) is used mainly to refer to people much higher in rank than oneself and sometimes towards a people one greatly admires.

Himespetchi is the only Tamagotchi character to have a shoulder angel and devil. However, her angel is actually a cupid, Hime Cupid (ひめ♥キューピット Hime♥Kyūpitto). Himespetchi can also transform into Hime Cupid on the Tamagotchi iD L Princess Spacy ver., if she has both the Henshin Jo destination and has connected to 10 or more Tamagotchis. Her shoulder angel and devil never appeared in Yume Kira Dream.
Even though Himespetchi does not have a catchphrase for when she is angry, her angry pose is seen quite a lot in the tv anime. It even features on the Tamagotchi iD L Princess Spacy ver., which anime poses aren't very common on Tamagotchi iD L characters. However Himespetchi's popular love pose with Gigakyun does not feature on the version.

Himespetchi owns a small Mametchi plush. Its first big appearance is in the Tamagotchi! anime in episode 126, and in the second volume of the Tamagotchi Friends Manga Gigakyun ♥ Dream ★ Idol Himespetchi. He is normally seen on Himespetchi's bed, which she sleeps with hugging at night. She often talks to it thinking its Mametchi. She does have other Mametchi goods, including an Ikemen Mametchi clock she made herself; however, the plush seems to be her favorite. In the anime, the plush's eyes are different, changed to a more plush toy like appearance, dots.
When Tomomi left the anime in episode 112, Himespetchi (First appearing in episode 114) replaced Tomomi's spot in the opening and ending of the series in season 6.
In the Tamagotchi Friends webisodes, she says "giga crush" instead of "gigakyun."
Meaning of Gigakyun and Gigashyun
Gigakyun, Giga is an expression used to indicate "a huge amount", presumably from the "giga" Metric prefix (e.g. gigabyte). "Giga" is currently being used in Japan in the same way we've been using "mega" to mean "huge" in English for some time now. (e.g. "mega yacht" meaning a huge passenger ship.). Kyun means falling in love. Short for Kyunto, which means a young girl falling in love. Kyun is also known as a Japanese onomatopoeia, as the sound or feeling you get when you have butterflies in your stomach. This Japanese onomatopoeia can be used for both female and male since its only a sound, not connecting to Kyunto.
Gigashyun is the opposite of Gigakyun. Shyun is short for sad or depressed.
Gallery
Himespetchi
Himespetchi's Spaceship