Ichigo-chan-tchi
(

いちごちゃんっち

)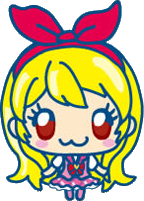 Genders and Releases:
Sprites:
Ichigo-chan-tchi (いちごちゃんっち) is a female Tamagotchi based on Ichigo Hoshimiya from Aikatsu!. She appears as a raisable character on the Tamagotchi P's with the Feat. Aikatsu! ver. Tama Deco Pierce.
Appearance
Ichigo-chan-tchi's appearance is based on Ichigo Hoshimiya's. She resembles a young girl with peach-colored skin, pink cheeks, long blonde hair, and brown eyes. She wears a pink dress and stockings, and a large red bow on her head.
On Virtual Pets
Tamagotchi P's (Feat. Aikatsu! ver. Deco Pierce)
To obtain Ichigo-chan-tchi, feed any female teenager the Nori Bento 3 times. 
External Links
See also
Ad blocker interference detected!
Wikia is a free-to-use site that makes money from advertising. We have a modified experience for viewers using ad blockers

Wikia is not accessible if you've made further modifications. Remove the custom ad blocker rule(s) and the page will load as expected.