Janken PON! (じゃんけんPON!) is the final ending theme of the anime Tamagotchi! (season 7). It is sung by Dream5.
Credits
Singer: Dream5
Songwriter: leonn
Composer: Junichi Matsuda
Arranger: Tetsu Watanabe
Japanese lyrics
(ジャンケンポンでアイコでしょ

いっせーのでピョン

ジャンケンポンで あっちむいてホイ!)

君(きみ)が笑(わら)えば僕(ぼく)も笑(わら)う

まるで魔法(まほう)みたい

君(きみ)が嬉(うれ)しい時(とき)には

僕(ぼく)も嬉(うれ)しくなる

ケンカしったって そっぽ向(む)いたって

ソッコー仲直(なかなお)り

絆(きずな)の種(たね)一緒(いっしょ)に育(そだ)てていこう

晴(は)れのちトモダチ 毎日(まいにち)トモダチ

楽(たの)しいこと二倍(にばい)になる

君(きみ)がいなくちゃ始(はじ)まらない

それがトモダチ

雨(あめ)のちトモダチ 明日(あした)もトモダチ

いやなコト半分(はんぶん)こ

君(きみ)がいるから素晴(すば)らしい

僕(ぼく)たちはトモダチ

(ジャンケンポンでアイコでしょ

いっせーのでピョン

ジャンケンポンでまた明日(あした) また明日(あした)!)

Videos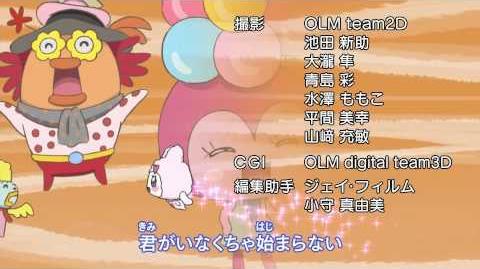 Ad blocker interference detected!
Wikia is a free-to-use site that makes money from advertising. We have a modified experience for viewers using ad blockers

Wikia is not accessible if you've made further modifications. Remove the custom ad blocker rule(s) and the page will load as expected.