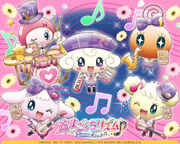 Kirakira Girls is the name of a band that first appeared in Tamagotchi! Yume Kira Dream. It consists of five (later six) main female characters in the anime.
Biography
The band started out in episode 25 and were officially named in episode 28 use Smapi pads and they often play songs by D2, such as Kirakira☆Dream and even an original song, Rock 'N' Heart!. They often wear Kirakira Tamamori when they perform live. Their rival band is Pretty Princesses and their counterpart is Rainboys. They once competed in a band contest in episode 35, but neither of them won (the prize went to a different band that competed).
Departure
Himespetchi was the first to leave the band because of her parents request after performing in the contest. Coffretchi then took over her place as drummer in the following episode and onward. Yumemitchi and Kiraritchi left in episode 191 to enroll in Idol Academy. Because of this, the band no longer performed for a while.
Short timing reunion
When Yumemitchi and Kiraritchi returned in a Miracle Friends episode 12, they performed with the Kirakira Girls band again. Himespetchi didn't reunite with them but she did appear in a flashback Afterwards, they left again back to Idol Academy.
Full time reunion
All members reunined in GO-GO Tamagotchi!. Himespetchi returned in episode 1 and Yumemitchi and Kiraritchi returned in episode 3. Although all memebers appeared together, they didn't perform together again since Yumemitchi and Kiraritchi became idols. In episode 45, however a girl called Nadeshikotchi inspires Yumemitchi and Kiraitchi to start the Kirakira Girls band again with all six members performing together again. In episode 50, they performed a special version of Happy Happy Harmony with Lovelitchi and Melodytchi to cheer up Tamagotchi Planet; however, Yumemitchi and Kiraritchi only sang whereas Memetchi played the guitar instead of her usual saxophone.
Members
Trivia
Memetchi and Pianitchi had the longest amount of appears to be with the band.
With the exception of Memetchi and Himespetchi, the voice actors of the band members also done several voice work for Bandai's long running Pretty Cure Franchise. The voices as follows:
Ad blocker interference detected!
Wikia is a free-to-use site that makes money from advertising. We have a modified experience for viewers using ad blockers

Wikia is not accessible if you've made further modifications. Remove the custom ad blocker rule(s) and the page will load as expected.