Like and Peace!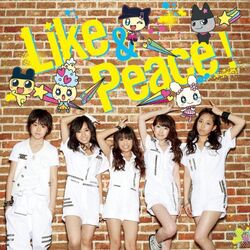 Artist::
Dream5
Details:
Release: 2011/07/20

Format: CD, Maxi-Single
Catalog #: AVCD-48082
Publisher: Avex Trax
Barcode: 4 988064 480821
Like & Peace! is an album by Dream5, released in Japan on July 20, 2011. It contained the Like and Peace song which was used in the beginning credits for the Tamagotchi! anime, episodes 74-98. Unlike most other Dream5 CDs, this one has Tamagotchis on the cover - Mametchi, Kuromametchi, Lovelitchi, Melodytchi, and Moriritchi.
Tracks
恋の大予言
オープンセサミ
Like & Peace! アニメVer.
Like & Peace! (Instrumental)
恋の大予言 (Instrumental)
オープンセサミ (Instrumental)
External links
This article is a stub!
You can help the Tamagotchi Wikia by expanding it.
Ad blocker interference detected!
Wikia is a free-to-use site that makes money from advertising. We have a modified experience for viewers using ad blockers

Wikia is not accessible if you've made further modifications. Remove the custom ad blocker rule(s) and the page will load as expected.