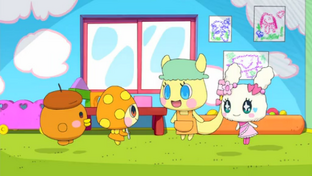 Lovelin Becomes a Tama-Sitter (ラブリン、たまシッターになる Raburin, tama shittā ni naru) is part two of episode of GO-GO Tamagotchi!. Along with part one, it is episode 246 overall. It first aired on September 25, 2014.
Plot Summary
Lovelin helps Poketchi babysit young tamagotchis for a TV program, but she is discouraged because she can't seem to understand the children.
Characters
Main
Secondary
Ad blocker interference detected!
Wikia is a free-to-use site that makes money from advertising. We have a modified experience for viewers using ad blockers

Wikia is not accessible if you've made further modifications. Remove the custom ad blocker rule(s) and the page will load as expected.