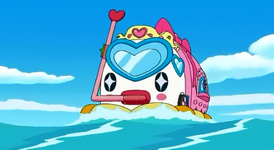 The Lovelin Tour Bus (ラブリンカー Raburin Kaa) is a transportation vehicle owned by Lovelin. It is her personal tour bus that Lovelin uses to get to other places, such as to host events. It appears in the anime, and is an obtainable item on the Tamagotchi 4U.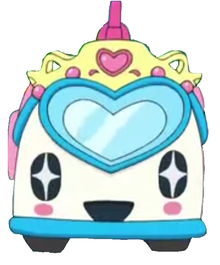 Properties
The front of the bus resembles mostly the head of Lovelitchi. Its eyes light up and can make various expressions as if it were alive. The windshield and its side windows are shaped like hearts and it has a tiara-like decoration on the front roof. There is also a big pink bow on the base. It can drive by itself and go in water.
The interior of the bus has a soft pink couch in it in which Tamagotchis sit while the bus is driving. There is also a dressing room in the back, full of Lovelin's outfits. The side can open up to form a stage for Lovelin to perform concerts.
Toy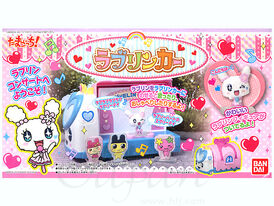 In July 2010, an electronic toy called Lovelin Car was released, selling for 2,800 Yen. It comes with stickers to place in the correct locations and it plays some of Lovelin's song, Lovely Day / Every Lovely when you press the large ribbon-shaped button on the stage. It opens up from two sides. The wheels do not move. It also comes with cut-outs of Lovelin's Tama-Friends and three plastic stands for the cut-outs.
Description
Lovelin, the biggest idol on the Tamagotchi planet, is now ready to come perform at your house! With the Lovelin Car mobile stage, she can travel anywhere for a concert. One side opens up to become a stage for great performances; a small plastic figure of Lovelin is included. A dressing room is on the other side, so she can get ready to meet her fans! The toy really plays music, too! Two AAA-size batteries are required, not included; for ages 6 and up.
Ad blocker interference detected!
Wikia is a free-to-use site that makes money from advertising. We have a modified experience for viewers using ad blockers

Wikia is not accessible if you've made further modifications. Remove the custom ad blocker rule(s) and the page will load as expected.