Lovelitchi
(ラブリっち)
Genders and Releases:
Name in other languages:
Romaji: Raburitchi
Alternate names: Lavulitchi, Lovelytchi
Taiwanese Chinese:

甜心吉


Hong Kong Chinese:

小甜心



Hometown:
Tama Street
Sprites:





Lovelitchi (ラブリっち Raburitchi, Lavulitchi, Lovelytchi), is a female adult Tamagotchi character who debuted on the Tamagotchi iD. Her birthday is the 10th of September. In the anime, Tamagotchi!, Lovelitchi is one of the central characters to the series. Her idol alter-ego is Lovelin and her best Tama-Friend is Melodytchi, who she makes popular songs with.
Appearance
Lovelitchi resembles a snow rabbit. She is white and fluffy with two ears on her head. She wears a dress, stockings, a heart-shaped purse, and decorations around her ears. There are two different designs of Lovelitchi because her outfit was changed.
Personality
Lovelitchi is a sweet girl who loves meeting new people. She can get very shy and nervous of herself at times since she has so many fans. She is very kind and likes to help out. Her friends have helped her gain some confidence. She likes singing, dancing, and trying on new outfits.
Releases

The main Tamagotchi versions she appears on are the Tamagotchi iD, Tamagotchi iD L, and the TamaTown by Tama-Go.
Tama-Go
On the Tama-Go she is obtained by giving excellent care. She evolves from Shelltchi, Mikazukitchi, or Chuchutchi.
Tamagotchi iD
In the Tamagotchi iD Lovelitchi can reach Tamatomo level by purchasing and putting on the Heart sunglasses , playing with the mic toy, and eating the love cake.
Tamagotchi iD L
She is obtainable in the Tamagotchi iD L series by rasing her from a Painaputchi (Also applies to Princess Spacy Ver.) with 0-1 care misses.
Tamagotchi P's (deco pierce)
Lovelitchi appeared in the Tamagotchi P's as a special character raised only when connecting the love&melody Tama Deco Pierce to the device. She is raisable by playing with the stage mic 3 times with any female teen character.
Name Origin
The name Lovelitchi is actually Lovelytchi. But the letter 'y' isn't used as a vowel, only 'li' (リ). In English, Bandai America named her Lovelytchi on the Tama-Go but changed it to Lovelitchi in the anime to keep the connection to Lovelin, her secret identity.
In the Anime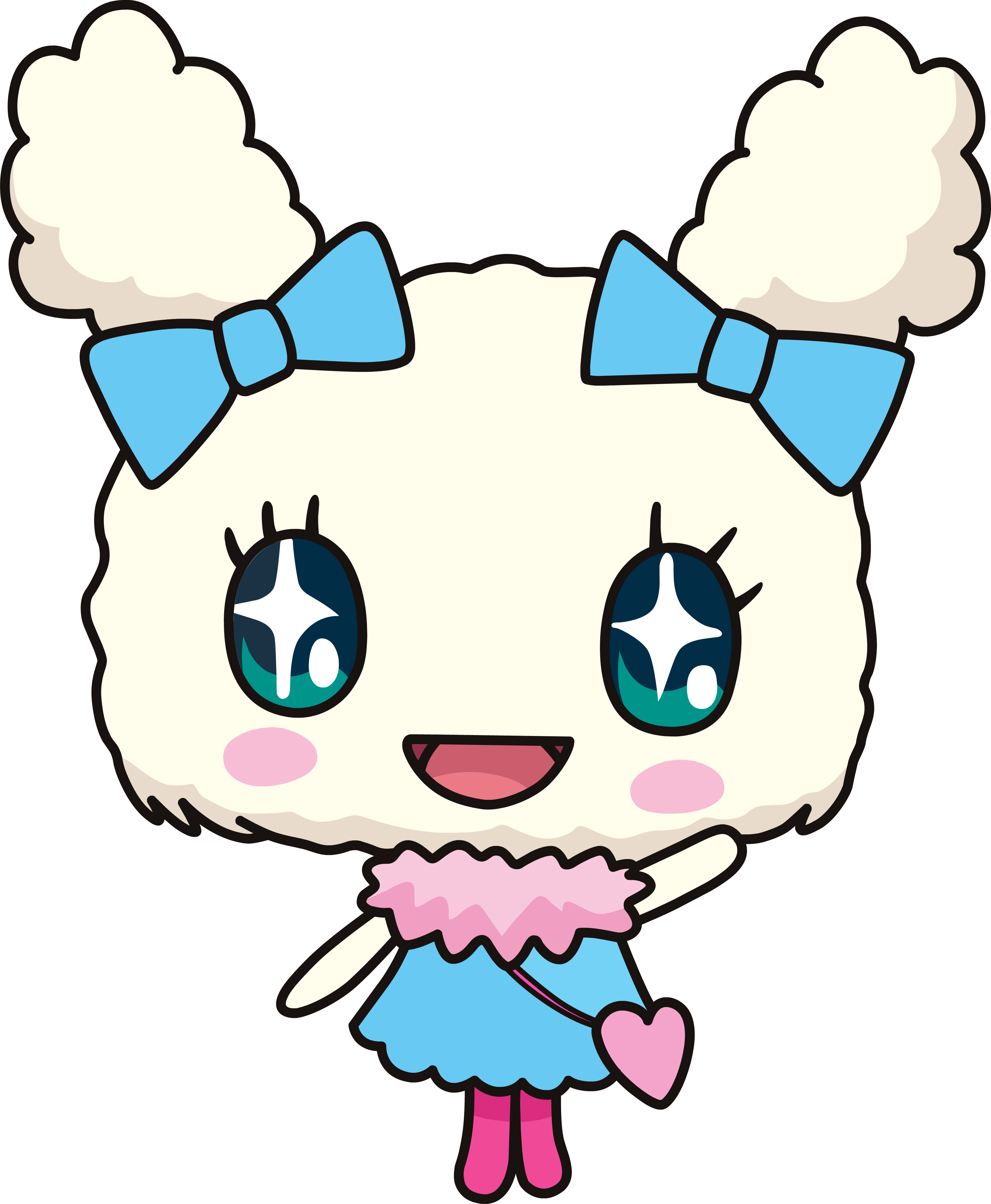 Lovelitchi is one of the central characters in the anime, Tamagotchi!. She was first seen in Get Ready! The Big Race on Tama Street and then made her major debut in The New Student at Tamagotchi School.
Lovelitchi leads a secret double-life under the stage name Lovelin. As Lovelin, she is the most popular idol of all in Tamagotchi Town. She appeared in many activities such as a host, singer, and television shows often as the lead character. Some of Lovelitchi's friends, mainly the Tama-Friends, are aware of her secret. But Uwasatchi is oblivious to the secret. However, she wants to stir gossip about Lovelin and suspects Lovelitchi knows something about her.
In the past, Lovelitchi kept trying out new schools but none of them made her happy. Her classmates always bullied her and called her a show-off because they were jealous of her popularity. As a result, when Lovelitchi moved to Tamagotchi Town, she decided to keep her identity as Lovelin a secret so that nobody at her new school would bully her.
When Lovelitchi was first introduced at Tamagotchi School, everyone was excited to meet her, and Lovelitchi later reveals to Manenetchi that she couldn't believe how her new classmates welcomed her. One day Mametchi tells Lovelitchi that he sees her as a Tama-Friend, but that eventually gets Lovelitchi worried because Tama-Friends never lie. She feels that her friends would hate her because she has been keeping a secret from them, so on Mametchi's birthday, she tells all her Tama-Friends. She is unsure how they will react and when they treat her with understanding, Lovelitchi cries with happiness.
It is also revealed that Kuromametchi knew that Lovelitchi was Lovelin ever since she joined Tamagotchi school, and often worked hard to keep her secret safe. For a while, only Lovelitchi's Tama-Friends knew she was Lovelin but in episode 47, Lovelitchi announced her secret to the whole school.
After being reconvened with Mametchi and his friends, she was happy to make acquaintances with people who support her. She likes Mametchi, Memetchi, Kuchipatchi, as well as several other characters.
Lovelitchi is a shy but kind and a sweet young girl. She often feels nervous but she can stand up to herself now that she has friends. She lives in the TamaCafe with her family, Lovepapalitchi and Lovemamalitchi, which also acts as a cafe restaurant run by her mother and father.
Lovelitchi no longer featured in the anime since the beginning of Tamagotchi! Yume Kira Dream, and she was also absent from Miracle Friends. However, she will return as a central character in GO-GO Tamagotchi!.
Relationship with Mametchi
During the earlier episodes of the series, Lovelitchi and Mametchi were very good friends and appeared to have crushes on each other. When Melodytchi was introduced, Lovelitchi developed a close bond with her and spent more time with her instead, and the signs of the crush between her and Mametchi faded. It is unknown whether Lovelitchi and Mametchi really did like each other, but they still remained close friends.
Friendship with Melodytchi
Lovelitchi first saw Melodytchi on television, playing her violin. Lovelitchi found the music beautiful and admired Melodytchi's talent. When Melodytchi arrived at TAMAX-TV, Lovelitchi recognized her immediately and was quick to introduce herself. While Lovelitchi was interviewing Melodytchi for a TAMAX-TV show, Lovelitchi was able to relate to Melodytchi. When Lovelitchi was performing a live concert and the power went out, Melodytchi played her violin to save the concert and the two girls became the best of friends. Melodytchi now lives at Tama Cafe with Lovelitchi and they do many things together.
Appearance Change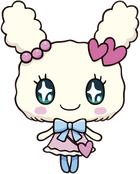 In episode 95 of Tamagotchi!, Lovelitchi's appearance had changed into Tama Heart form. The outfit change was given to Lovelitchi by her mother, Lovemamalitchi. Because of the close friendship Lovelitchi and Melodytchi have. The two Tama Hearts were added by Moriritchi.
Her two bows were replaced with two ancient like Tama Hearts, and 3 pink beads similar to Lovelin's. Her dress with changed to pink with another white dress underneath, her neckline was changed with one of her blue bows past worn from her fluffly ears, and her stockings were changed to blue instead of pink. But her pink heart shoulder bag is still the same. Melodytchi also has changed into a Tama Heart form.
Other Forms
Young Lovelitchi
Young Lovelitchi (やんぐラブリっち Yangu Raburitchi) is Lovelitchi in her much younger years, about 6 - 8 years ago. She is very mischievous, always running into everything and cries a lot. Her behavior is somewhat similar to Chamametchi; she can be child-like and sometimes stubborn. She has only appeared on the TV anime show, Tamagotchi! twice.
Family
Main article: Lovemamalitchi
Lovelitchi's mother who works at Tama Cafe.
Main article: Lovepapalitchi
Lovelitchi's father who works at his own photographing shop on Tama Street.
Trivia
Also See
Gallery