Lovelitchi
(ラブリっち)
Genders and Releases:
Name in other languages:
Romaji: Raburitchi
Alternate names: Lavulitchi, Lovelytchi
Taiwanese Chinese:

甜心吉


Hong Kong Chinese:

小甜心



Hometown:
Tama Street
Sprites:




Lovelitchi (ラブリっち Raburitchi), also known as Lavulitchi, is a female Adult Tamagotchi character who debuted on the Tamagotchi iD. Her birthday is the 10th of September. Melodytchi is her best friend, or best Tama-Friend. She is also very good friends with Moriritchi. Lovelitchi resembles a snow rabbit.
Tamagotchi
She appears in odd-numbered generations on the Tamagotchi iD and TamaTown by Tama-Go. She evolves from Shelltchi, Mikazukitchi, or Chuchutchi. In the Tamagotchi iD you can reach Tamatomo level with Lovelitchi by 1st purchasing and putting on a princess dress. 2nd, play with the mic toy, and 3rd, eat the love cake. She is also obtainable in the Tamagotchi iD L series by rasing her from a Painaputchi (Also applies to Princess Spacy Ver.)
Anime
In the anime series Tamagotchi!, Lovelitchi is one of the central characters to the series; Lovelitchi was introduced in the anime as a shy, kind, sweet girl who doesn't know how to make friends, as previously she was bullied. But thanks to Mametchi and his friends she became their friend and likes to spend time with them and Because of Mametchi's kind personality, she is another girl to develop a crush on him. She is best friends with some of the other central characters, Mametchi, Memetchi, Kuchipatchi, as well as several other characters who know of her secret double-life under the stage name Lovelin. Lovelin is a Pop Star that appears alongside Gotchiman in his television show. Lovelitchi has parents, Lovepapalitchi and Lovemamalitchi , who run the TamaCafe. Uwasatchi is oblivious to the secret. However, she wants to stir gossip about Lovelin and suspects Lovelitchi knows something about her. Lovelitchi wears a blue dress with a pink collar, two blue bows, pink tights and a pink purse shaped like a heart.
Lovelitchi also sings in the popular song, Happy Happy Harmony and Happy Heart.
Relationship with Mametchi
Lovelitchi is another girl to develop a crush on him. Mametchi also has a crush on her but they both don't know they like each other but throughout the anime TV show, Tamagotchi! , where there crushes began, the crushes between the two have now since disappeared because when Melodytchi was introduced in the anime Lovelitchi 's crush disappeared and shared a close bond with Melodytchi rather than acknowledging her feelings for Mametchi. It is unknown if she still has feelings for him.
Appearance Change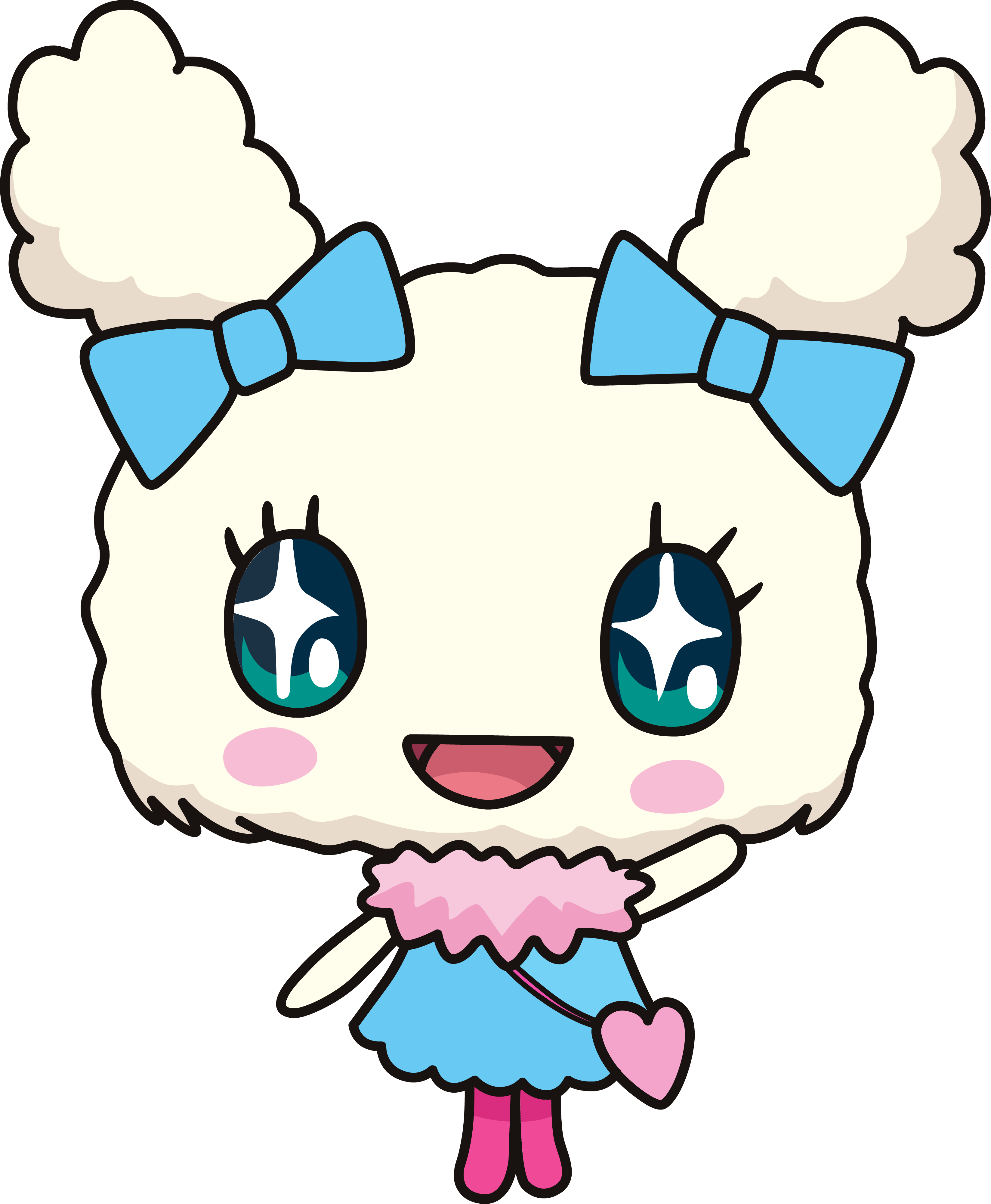 In
episode 95
of
Tamagotchi!
, Lovelitchi's appearance had changed into
Tama Heart
form. The outfit change was given to Lovelitchi by her mother,
Lovemamalitchi
. Because of the close friendship Lovelitchi and
Melodytchi
have. The two
Tama Hearts
were added by
Moriritchi
.
Her two bows were replaced with two ancient like Tama Hearts, and 3 pink beads similar to Lovelin's. Her dress with changed to pink with another white dress underneath, her neckline was changed with one of her blue bows past worn from her fluffly ears, and her stockings were changed to blue instead of pink. But her pink heart shoulder bag is still the same. Melodytchi also has changed into a Tama Heart form.
Other Forms
Young Lovelitchi
Young Lovelitchi (やんぐラブリっち Yangu Raburitchi) is Lovelitchi in her much younger years, about 6 - 8 years ago. She is very mischievous, always running into everything and cries a lot. Her behaviour is somewhat similar to Chamametchi. She has only appeared on the TV anime show, Tamagotchi! twice.
Family
Main article: Lovemamalitchi
Lovelitchi's mother who works at Tama Cafe.
Main article: Lovepapalitchi
Lovelitchi's father who works at his own photographing shop on Tama Street.
Name Origin
Lovelitchi's name really means Lovelytchi, but when in Japanese, you can't add y to a vowel, only li (リ). But when translated into English, Bandai America keep the name Lovelitchi instead of Lovelytchi to keep the connection to Lovelin, Lovelitchi's secret identity.
Gallery
Also See