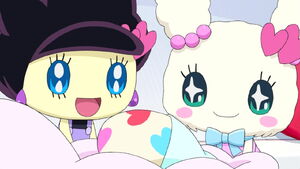 Lovelitchi Becomes a Big Sister
(
ラブリっち、お姉さんになる
Raburitchi, onēsan ninaru
) is episode 16 of
GO-GO Tamagotchi!
, and is episode 237 overall. The episode first aired on July 24, 2014.
Plot summary
A new family member is born in Lovelitchi's house! Lovelitchi and Melodytchi are restless to meet the baby soon. Because they are both an only child, they often imagined the day they'd become a big sister, exuberant every day. And finally, the moment that the baby is born arrives...!
Characters
Main
Secondary
Trivia
This is the first Tamagotchi! anime episode in which a character gets a new sibling.
This is the third episode to be a full episode, rather than two individual sub-episodes.
Ad blocker interference detected!
Wikia is a free-to-use site that makes money from advertising. We have a modified experience for viewers using ad blockers

Wikia is not accessible if you've made further modifications. Remove the custom ad blocker rule(s) and the page will load as expected.