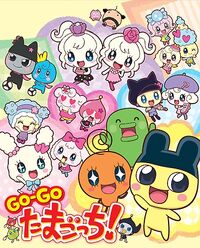 See what's happening on GO-GO Tamagotchi!; explore places and more!
Tamagotchi Toys and Games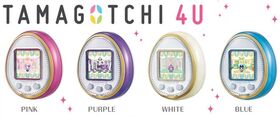 Utility. Unique. United. Universal.
Introducing the Tamagotchi 4U! It features 10 familiar characters and the new "touch system"! With the touch system, you can download new goodies such as items, accessories, and even characters, all on the go!
Read more →
 What is Tamagotchi?
The
Tamagotchi
is a digital pet first released in 1996 by Bandai Japan. Over the last 15+ years, over
40 different models
have been produced, each with unique features and some with color screens.
In 1997 the very first Tamagotchi anime was released; since then there have been Tamagotchi movies and animation shorts. In 2009, the Tamagotchi! anime was released. With over 200 episodes aired to date, it is a very popular series in Japan and has inspired a wide variety of merchandise.
---
This wiki revolves around all things in the Tamagotchi franchise, including the digital pets, characters, toys, games, anime, and more!
Looking for something in particular? Enter a character's name, a place, or a thing in the handy search bar above!
There are 1,526 articles on this wiki!
Enjoy your stay!
 Helping the Wiki

Get started
Want to help write an article? Visit the "Wanted Pages" list to see what you can do.
To write a new article, just enter the title in the box below.
Adding content
Talk and more…

Memetchi
Memetchi is an adult female Tamagotchi character who first appeared in Tamagotchi Connection. Since her debut, she has became one of the mascot Tamagotchi characters along with Mametchi and Kuchipatchi.
Read more →
 Explore The Wiki

Which Tamagotchi! anime is your favorite?
 Useful Links