Melodytchi
(メロディっち)
Genders and Releases:
Name in other languages:
Romaji: Meroditchi
Alternate names: Meloditchi
Taiwanese Chinese:

音樂吉 / 美樂蒂吉


Hong Kong Chinese:

Melody


Russian: Мелодичи

Hometown:
Melody Land
Sprites:




Melodytchi (メロディっち Meroditchi, Meloditchi) is an adult female Tamagotchi character who debuted on the anime Tamagotchi! in Episode 48, then as a raisable character on the Tamagotchi iD Lovely Melody ver.
She is often called Meloditchi in English, because of the way her name is pronounced in Japanese. Melodytchi appears to somewhat resemble a Siamese cat. Her birthday is December 29th. Lovelitchi is her best friend, or best Tama-Friend. In the anime, she is voiced by Sanpei Yuuko.
Personality
Melodytchi is a friendly, fun-loving girl and more confident than her friend Lovelitchi. She likes doing activities with her friends such as competitions and riding roller coasters, but sometimes she gets a little too excited. She is an optimistic Tamagotchi who always wears a smile and is good at cheering her friends up even when things are going badly.
In addition to above, she can't understand love at all. She has a strange senses of jokes. She also likes food, especially sweets.
In the Anime
Melodytchi made her debut in the anime in Rival? Idol? Meloditchi Entry. She is a classical musician and a huge violin star, playing with her Melody Violin. She also works at TAMAX-TV as a violinist. Melodytchi also plays her Melody Violin in the popular songs Happy Happy Harmony, Happy Heart, and Smile For Tomorrow. Her favorite song is Melody Waltz, and her violin teacher is Classictchi.
Melodytchi comes from Melody Land, her hometown. She has a mother and father named Melomamatchi and Melopapatchi. She owns two Tama Pets, Sopratchi and Doremitchi. She and her pets moved to Tamagotchi Town and live at the Tama Cafe with Lovelitchi and her parents, Lovemamalitchi and Lovepapalitchi. Melodytchi cares about her parents and often misses being in Melody Land with them.
When Melodytchi first arrived at Tamagotchi School, she quickly made friends with all the students and did very well in class.
Melodytchi loves sweets so much that she has even had a fight with Kuchipatchi over a cookie. She likes to taste all different kinds of sweets but she doesn't eat as much as Kuchipatchi does. She even competed in an eating competition in Episode 73, but lost to Kuchipatchi and Kuishinbotchi.
She frequently speaks English in the anime. She often says "good morning," "hello," "goodbye" and instead of "watashi wa," she says "mī wa" (mī being the English word me).
Melodytchi loves her violin because it was given to her by Joou Sama and she has had many experiences in playing it. She calls it her "friend", and treats it very well as if it were alive. In one episode, when it went missing, Melodytchi cried and looked for it desperately. When it was finally found, Melodytchi hugged it and was relieved. Later in the series, it was revealed that Melodytchi's violin really does have a spirit.
Melodytchi no longer featured in the anime since the beginning of Tamagotchi! Yume Kira Dream, and she was also absent from Miracle Friends. However, returned as a central character in GO-GO Tamagotchi!, in which she becomes friends with Pianitchi.
Although the violin is her specialty, she can also play the electric guitar.
Appearance

Melodytchi is a cat-like character with an indigo / black colored hat, a hot pink dress, and purple earrings. Her fur/skin is cream-coloured and her eyes are blue. Without her Melody Hat, she has dark pink beads all around her pointed ears.
First Appearance
Without Change (Episode 48 - Epsiode 65)

When Melodytchi was very first seen on Tamagotch Channel, her beamed note on her hat use to be a pinky purple and her quaver note necklace use to be light pink. But when she was released on the anime Tamagotchi!, her beamed note was changed to purple and her necklace was changed to light purple.
Second Appearance
Changed with Melody Charm (Episode 65 - Episode 95)
Melodytchi's appearance also changed again when she got the Melody Charm. After she got it she changed her purple quaver note necklace with the Melody Charm.
Third Appearance
Changed with Tamatomo Tama Heart form. (Episode 95 - continuing)
Melodytchi's appearance had a huge change in episode 95 of Tamagotchi!. Once again her appearance changed with purple overalls, and her beamed note on her hat is now replaced by two ancient like Tama Hearts.
The outfit change was given to Melodytchi by Lovelitchi's mother, Lovemamalitchi, because of the close friendship Lovelitchi and Melodytchi have. The two Tama Hearts were added by Moriritchi.
Lovelitchi also has changed into a Tama Heart form.
Other Forms
Young Melodytchi
Young Melodytchi (やんぐメロディっち Yangu Meroditchi) has appeared in the anime show, Tamagotchi!, a few times. She appears in the anime occasionally, when Melodytchi has a flashback to her younger/toddler years. She has smaller eyes than the modern Melodytchi, and doesn't wear a hat.
Melomamatchi

Melomamatchi (メロママっち Meromamatchi) is Melodytchi's mother. She is known as a singer in Melody Land. She is very proud of Melodytchi and often cries on how proud she is, and how much Melodytchi loves her.
Melopapatchi
Melopapatchi (メロパパっち Meropapatchi) is Melodytchi's father. He is known as a violinist in Melody Land.
Melody Hime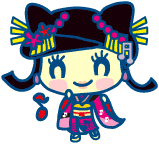 Melody Hime (メロディ姫 Merodi Hime) is Melodytchi's Japanese princess side, as hime means princess. She appears in episode 88 of the Tamagotchi! anime and on the Tamagotchi iD L.
Melody Investigator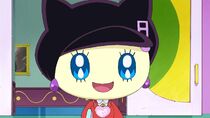 Melodytchi Investigator (メロディ捜査官 Merodi Sousakan) is a detective. She carries a pink and blue laptop in which she records all her information, which resembles the Tamatomo Personal Computer. She seems to be Anpan Detective's rival, as she often follows him around to record the latest news, but this sometimes annoys and distracts Anpan.
Gallery
Also See
Trivia
After the first series ended Sanpei Yuuko begin to voicing Raitotchi.
When Melodytchi blinks, there is a sound a bit like glass smashing.
In the final episode of the original anime series, when Melodytchi shouts "Kizunatchi" as Kizunatchi is falling from the sky, there is a mistake where Melodytchi's earring is coloured blue like a sweatdrop.
Catchphrases
Melodytchi says the following things in English.
Hello!
Goodbye.
See you tomorrow.
Good evening.
Good night.
Good morning.
Nice to meet you.
Okay!
Wow!
Oh my gosh!
Sorry.
I don't know.
So bad!
So true!
What's happened?
I'm so hungry.
Look!
You look so cute!
Unbelievable!
Yummy!
Very Delicious!
Gorgeous!
Cute!
What?
Why?
Who?