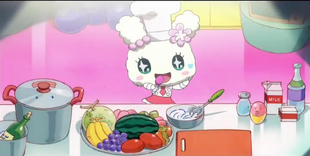 Miracle Kitchen (ミラクル・キッチン Mirakuru Kitchin) is a song from the Tamagotchi! anime, sung by Lovelin. It is Lovelin's second song and is used when she hosts a cooking show on TV.
Shakertchi was the first Tamagotchi to sing this song; she sings it when she uses her Kururin Shake Maker. Other Tamagotchis also sing Miracle Kitchen while making fruit shakes. Lovelin first sung it in episode 48.
The full version of the song, as well as the karaoke version, appeared on a CD along with the ending song Moshimo☆Paradise. There is an English version of the song, but it only appears in episode 25, sung by Shakertchi.
Japanese Lyrics
エプロンぎゅっとしてReady Go!
作ろうスペシャルなチョコクッキー!
お砂糖、小麦粉、バターとココアで
ちょっと甘いかおりにうっとり



胸きゅんのリズムで混ぜ混ぜしましょ
オーブン入れたらダンシング!
ほらねこんがりと焼けたら完成!



Fu wao Fu wao! 膨らむハート
Fu wao Fu wao! おいしくなーれ
ピカピカの気持ち「LOVE(エル・オー・ヴイ・イー)」
すてきミラクル・キッチン


ワクワクはじけるパラダイス!
作ろうフレッシュフルーツシェイク!
甘くて酸っぱい、ふしぎハーモニー

ブルーベリーでベリベリハッピー!

とろりんのクリーム混ぜ混ぜしましょ
ウインクの合図でスイッチオン!
ほらね恋のレシピ大成功!


Fu wao Fu wao! トキメキでもっと
Fu wao Fu wao! おいしくなーれ
ピカピカの気持ち「LOVE(エル・オー・ヴイ・イー)」
すてきミラクル・キッチン!


Fu wao Fu wao! 膨らむハート
Fu wao Fu wao! おいしくなーれ
ピカピカの気持ち「LOVE(エル・オー・ヴイ・イー)」
すてきミラクル・キッチン

Videos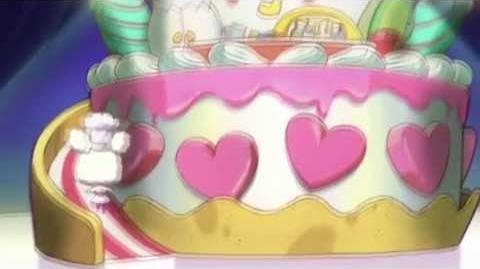 Ad blocker interference detected!
Wikia is a free-to-use site that makes money from advertising. We have a modified experience for viewers using ad blockers

Wikia is not accessible if you've made further modifications. Remove the custom ad blocker rule(s) and the page will load as expected.