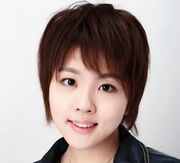 Misato Fukuen (福圓美里) is a Japanese voice actress from Tokyo, Japan. In Tamagotchi! Yume Kira Dream, she voiced Yumemitchi. She was born on 10 January, 1982.
Trivia
She also provides voice of Oshawatt and Georgia in Pokémon Best Wishes! series of its Japanese version.
Ad blocker interference detected!
Wikia is a free-to-use site that makes money from advertising. We have a modified experience for viewers using ad blockers

Wikia is not accessible if you've made further modifications. Remove the custom ad blocker rule(s) and the page will load as expected.