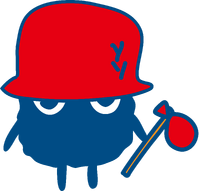 Nazotchi (なぞっち Nazotchi) is a "replacement" Tamagotchi character that appears on all editions of Tamagotchi virtual pets since 2004.
Nazotchi serves as a placeholder character between different Tamagotchi releases; if the character on one does not exist on another or the difference in the programming between the two of them prevents a proper character from appearing.
Appearance and Personality
Edit
Nazotchi appears as a big black ball wearing a wide, red hat, and two eyes visible from under the brim. It has two arms and legs, and is often depicted carrying a bindle. Nazotchi has neither a specific gender nor an Ura counterpart.
Since Nazotchi is an "unknown" character, it can have any forms of personality and age, but is is usually described as a quiet and elusive Tamagotchi. One of the many Nazotchis is the postman of Tamagotchi Town, delivering mail, paychecks, newspapers, presents, and fortunes to Tamagotchis daily.
In the game, Tamagotchi Corner Shop 3, it is stated that not much is known about him/her, but is also good with riddles.
On Specific Releases
Edit
Entama / UraTama Releases
Edit
On the Chou Jinsei Enjoi Tamagotchi Plus and Ura Jinsei Enjoy Tamagotchi Plus, one Nazotchi will appear a few times a day to deliver newspaper and mail. On occasion, it will also deliver important mail, such as enrollment letters for school and paychecks.
Version 4 / V4.5 Releases
Edit
On the Tamagotchi Connection Version 4 and Tamagotchi Connection Version 4.5, one Nazotchi will appear many times a day to deliver mail and fortunes. On occasion, it will also deliver important mail, such as enrollment letters for school and paychecks.
Family Releases
Edit
Nazotchi appears when connecting a Tamagotchi Connection Version 5 (English or Japanese edition) to a later release, such as the Royal Dream Family Tamagotchi Plus or Tamagotchi Connection Version 5 Celebrity. If the two breed, Nazotchi will take the place of the character being "sent", and will not evolve into a Parent form.
Tamagotchi Music Star
Edit
One of the Nazotchi's primary function on the Music Star is his original interpretation of being a postman, appearing at the door several times a day to deliver presents from the Gotchi King (or a parent from the previous generation, from the second generation onward) and letters from fans, which may either be a heart, star, or poop.
As the Tamagotchi Music Star is compatable with the Family pets, Nazotchi appears as a character placeholder. The two can breed by sending one Family character over to the Music Star; the character will be rendered as Nazotchi.
Tamagotchi Tama-Go

The new Nazotchi sprite from the Tama-go

Added by

Doctor Box

Edit
Nazotchi appears on the Tama-Go as the shopkeeper and when you connect a lower version with the Tama-Go, instead of the character, a Nazotchi will appear on the Friends list.
In Video Games
Edit
One mailman Nazotchi appears randomly in towns, and will deliver a letter to you redirecting you to another town if you land on its space.
Nazotchi also in all three Tamagotchi Corner Shop game series for the DS. He is one of the many customers that appears.
On the Online Tamatown, guests wear very similar hats to Nazotchi.