Omuratchi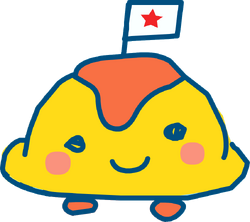 Genders and Releases:
Sprites:
Omuratchi is a Tamagotchi character that appears on the Deka Tamagotchi. Omuratchi has also appeared as a debug only character on the Tamagotchi Connection Version 2, Tamagotchi Connection Version 3, and Tamagotchi Plus / Connection.
Through debugging, Omuratchi can be either male or female
Appearance
Omuratchi resembles omurice, a Japanese omlet made with fried rice and topped with ketchup.
Name Origin
Omuratchi's name comes from the food omurice (オムライス Omu-raisu in Japanese).