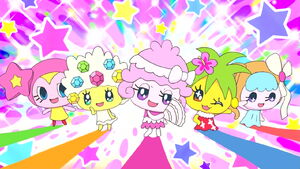 Pretty Princesses is the name of a girls' band at Dream School. They appeared in Tamagotchi! Yume Kira Dream. The members perform songs with Smapi pads, with the exception of Furifuritchi. They compete with their rival band, Kira Kira Girls.
They performed the song, "Hop Step Dream".
Members
Gallery
Ad blocker interference detected!
Wikia is a free-to-use site that makes money from advertising. We have a modified experience for viewers using ad blockers

Wikia is not accessible if you've made further modifications. Remove the custom ad blocker rule(s) and the page will load as expected.