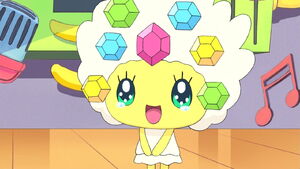 Queen of Tears vs. Yume Kira Comedians (涙の女王VSゆめキラ漫才師! Namida no joō VS yume kira manzaishi!) is episode 9 of Tamagotchi! Yume Kira Dream and episode 152 overall. It aired on November 12, 2012. The creator of the episode is Oohashi Yukiyoshi.
Plot
The students in dance class go to act in a crying scene. One girl in class is the only one who can do it, but suddenly she couldn't make herself cry anymore.
Cast
Main
Secondary
Gallery
Main Article: Tamagotchi! Yume Kira Dream/Episode Gallery/Episode 9 (152)
Ad blocker interference detected!
Wikia is a free-to-use site that makes money from advertising. We have a modified experience for viewers using ad blockers

Wikia is not accessible if you've made further modifications. Remove the custom ad blocker rule(s) and the page will load as expected.