Santaclautchi
Comments

0
1,144pages on
this wiki
Santaclautchi is a male Tamagotchi character who first appeared in Santaclautch no Tamagotch. He is based on the real Santa Claus and has appeared as the Christmas representative of the Tamagotchi universe.
In the Anime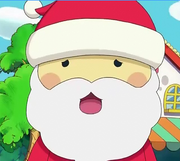 Santaclautchi only made exclusive appearances in Christmas-themed episodes. He made his first anime appearance in the episode, Rednosetchi is Lost! and continued to appear in each Christmas episode every year. Like the real Santa, he dedicates bringing Christmas joy by bringing the kind Tamagotchi folk presents every year on Christmas Eve. When walking in Tamagotchi Town, he wears a black cloak so that Tamagotchis don't recognize him as Santaclautchi, but the cloak usually falls off. Even when this happens, most Tamagotchis don't think he's Santaclautchi because so many other Tamagotchis are dressed as Santa during Christmas time. He is often getting separated from Rednosetchi.
Santaclautchi appeared again in Tamagotchi! Yume Kira Dream in Insert Yume Kira Dream Episode 15 Title Here. He had a minor role where he was searching for his missing Deertchi. However, this Dream Town Santaclautchi was different from the Tamagotchi Town Santaclautchi and wore a blue suit instead of red.
Name Origin
Santaclautchi comes from the name "Santa Claus," the figure based on Santaclautchi. It is simply mashed together and added with the standard Tamagotchi name suffix, "tchi," but with the "s" removed from "Claus."
Gallery