Sorette, Kuchipatchi.
(
それって、くちぱっち。
) is the name of a Tamagotchi franchise based on the character
Kuchipatchi
. The franchise has wide range of home products, all Kuchipatchi-themed. There is also an official web site and online webisodes.
Unlike other Tamagotchi franchise, Sorette Kuchipatchi seems to be aimed at Tamagotchi fans of any age and gender, rather than young girls.
Web Site
Sorekuchi.com is the offical website for Sorette Kuchipatchi. It includes a page where you can read about the characters, including Kuchipatchi and his family. It also includes a complete listing of all Sorette Kuchipatchi products and has links to where they can be purchased, as well descriptions and information about the product's size, release date, and cost. There are desktop backgrounds available, and a list of upcoming events.
Webisodes
Bandai released several Sorette Kuchipatchi webisodes on both YouTube and sorekuchi.com. All of the webisodes were animated by Dream Link Entertainment of Eagle Talon fame. They are usually one to two minutes long, and they all have a comedic atmosphere and are set in Kuchipatchi's house in Patchi Forest. Kuchipatchi is the main character of the series. Mamapatchi, Papapatchi, and the Chibipatchis are secondary main characters, and they appear in many of the episodes. Mametchi, Memetchi, Lovelitchi, and Melodytchi appeared only for a few seconds in one episode, in Kuchipatchi's thoughts.
The webisodes have a unique art style. The animation is more limited and uses less frames than the Tamagotchi! anime. There is no spoken dialogue, but sometimes sound effects and words appear on the screen, similar to manga. A lighter color scheme is used for the characters. The outlines are brown instead of blue or black, and they look sketchy rather than smooth.  
Products
The items in the Sorette Kuchipatchi line are mainly household products. There are also some toys, such as plushes and wind-up toys, and accessories for iPhones.
Gallery
Character Art
Products
Videos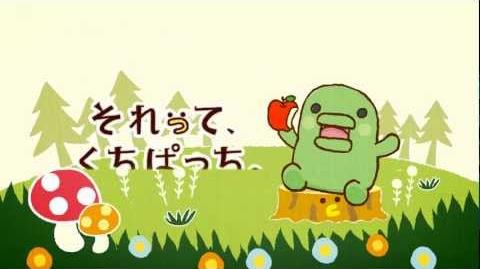 External Links
Ad blocker interference detected!
Wikia is a free-to-use site that makes money from advertising. We have a modified experience for viewers using ad blockers

Wikia is not accessible if you've made further modifications. Remove the custom ad blocker rule(s) and the page will load as expected.