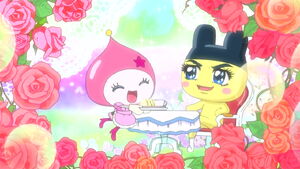 Surprise! Himespetchi Has Arrived Too! (ビックリ! ひめスぺっちもやってきた! Bikkuri! Himesupetchi mo yattekita!) is episode 3 of Tamagotchi! Yume Kira Dream. It first aired on September 24, 2012. The creator of the episode is Oohashi Yukiyoshi.
Plot
Himespetchi makes a surprise visit to Dream Town so that she can be close to her crush, Mametchi. But she became distraught after seeing him with his two new female friends, Kiraritchi and Yumemitchi.
Cast
Main
Secondary
Gallery
Main Article: Tamagotchi! Yume Kira Dream/Episode Gallery/Episode 3 (146)
Ad blocker interference detected!
Wikia is a free-to-use site that makes money from advertising. We have a modified experience for viewers using ad blockers

Wikia is not accessible if you've made further modifications. Remove the custom ad blocker rule(s) and the page will load as expected.