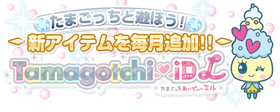 tama-id-l.com is an online mobile only website for Tamagotchi iD L downloads. The website can't be accessed outside Japan, but can be accessed with any Smartphone.
tama-id-l.com is also connected to Club Tamagotchi. Any member of Club Tamagotchi view and even buy special monthly downloads when logging into tama-id-l.com with their Club Tamagotchi account.
Trivia
The website will not allow someone to view the website with their phone using a full browser, such as "NTT DoCoMo iMode Full Browser." If one tries, they will be redirected to [1].
See also