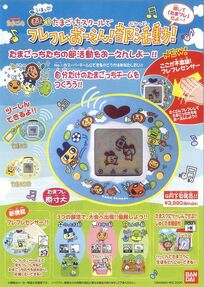 Tamagotchi Furefure; (たまごっちスクールでフレフレおーえん!部活動!)The Tamagotchi Furefure is another large Tamagotchi that can be connected to the Tamagotchi School, or as a Deka or Ouchi No Deka Tamagotch for the Tamagotchi School. It enables the students to play games. It is a Tamagotchi based on club activities, e.g. football. It was released on April 28, 2007. The Furefure can also be referred to as a TamaFure. The available colors are only blue. This is probably one of the only motion dector Tamagotchis Bandai has ever released.
Ad blocker interference detected!
Wikia is a free-to-use site that makes money from advertising. We have a modified experience for viewers using ad blockers

Wikia is not accessible if you've made further modifications. Remove the custom ad blocker rule(s) and the page will load as expected.