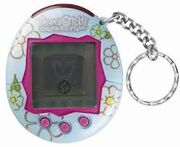 Tamagotchi Connection Version 2 (aka Tamagotchi Connexion Version 2 or simply V2) is the second Tamagotchi Connection release that debuted in 2005. It was the first Tamagotchi to have a shop and gotchi points. There are 2 babies, 4 toddlers, 10 teenagers and 35 adults with a total of 51 characters.
Features
Shop
The Shop function was first introduced on the Version 2. Under the "Play" icon, The same icon used by "Games", one could select the option "Shop", where owners could use points to purchase different items. The shop only carried 4 items at once, and would restock with different items at 3:00 PM, 7:00 PM, and 12:00 AM.
The shop also features secret codes the player could input to recieve special items. The player can press A at the shop screen until the shop owner makes a shocked face. The player could then input one of the following passwords for a free item:
BCBACABA = "Honey" Love Potion (later sold for 3000p)
ACBCABAC = Hair Potion (later sold for 400p)
CBAACABC = Stuffed Animal (later sold for 1500p)
ABBACBCC = Cake (later sold for 600p)
BACBCACB = Steak (later sold for 800p)
If the player were to input all 5 passwords, the last item they obtained would be replaced by a Rare Costume item. Inputting the passwords again would make the item available for purchase.
Note: The first time a code is entered, it is free, but after that they must be purchased.
Games
Jump: There are three cirlces, the player presses the button on the same side as the circle when it turns black. The player has to press the button in 0.5 seconds. The quicker the button is pressed, the further the Tamagotchi jumps.
Bump: A bar will move at the top of the screen, and the player has to press a button when the bar is high up. The Tamagotchi will fight with another Tamagotchi character. There are 8 rounds.
Heading: Balls will fall from the top of the screen. The player has to move the character to where the ball is dropping and make it jump. 20 balls fall in one game.
Slots: There are three slots the player has to press down when a good slot appears. O is good, triangle is average, and X is bad.
Points
The player can have a maximum of 9999 GP. The points are used to buy items from the shop. Points are earned by winning games.
Characters
Gallery
External Links