The Tamagotchi Connection Version 4.5 (titled the Tamagotchi Jinsei Plus Version 4 outside America, or simply the V4.5) is the fifth release of the Tamagotchi Connection.
It is based on the Tamagotchi Connection Version 4 and the Ura Jinsei Enjoy Tamagotchi Plus, though features some Tamagotchi Connection Version 3 characters. The Bikkuri Group characters are removed and it instead features the universal group, which includes the non-Ura characters.
Features
The V4.5 includes the same features used before on the Tamagotchi Connection Version 4, although many jobs and all of the games are different.[1] New items and souvenirs are available as well. This Tamagotchi includes many characters from the Uratama. The V4.5 has new skill points, which include the following catergories:
Funny: Smiley face icon (replacing intelligence pencil)
Gorgeous: Star/sparkle icon (replacing fashion sparkle)
Spiritual: Fist icon (replacing kindness flower)
PC Pack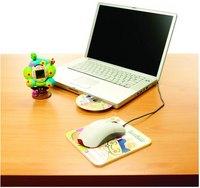 A special PC Pack was released in the USA (and Australia on October 31, 2007), which includes a tree-shaped microphone that doubles as a Tamagotchi cradle, a CD ROM, a mousepad, and an exclusive V4.5 designed to represent a globe. When the CD ROM is installed, the player may use the tree microphone to interact with an on-screen Tamagotchi, or play a variety of games that rely on the user's voice. Several wallpapers, coloring activities, and screensavers are included as well.
Characters
See Tamagotchi Connection Version 4.5 Character List
Gallery
References
Ad blocker interference detected!
Wikia is a free-to-use site that makes money from advertising. We have a modified experience for viewers using ad blockers

Wikia is not accessible if you've made further modifications. Remove the custom ad blocker rule(s) and the page will load as expected.