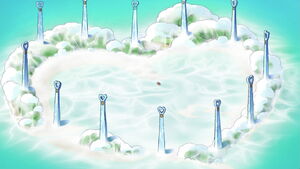 Tamagotchi Crisis of Stars! Can You Save It, Kizunatchi!? (たまごっち星のピンチ!救えるのはきずなっち!? Tamagotchi hoshi no pinchi! Sukueru no wa Kizunatchi!?) is episode 142 and part 3 of a four-part episode of Tamagotchi!. It aired on August 27, 2012. The creator of the episode is Matsui Aya.
Plot
* * * WARNING! Major spoilers below! * * *
The egg epidemic has gotten worse. The only lead the gang has in order to cure the curse leads them to a mysterious island.
Cast
Main
Secondary
Gallery
Main Article: Tamagotchi!/Episode Gallery/Episode 142
Ad blocker interference detected!
Wikia is a free-to-use site that makes money from advertising. We have a modified experience for viewers using ad blockers

Wikia is not accessible if you've made further modifications. Remove the custom ad blocker rule(s) and the page will load as expected.