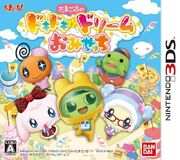 Tamagotchi Exciting Dream Corner Shop
(たまごっちのドキドキドリームおみせっち) is a Nintendo 3DS game released exclusively in Japan that is a sequel to the
Tamagotchi corner shop
series of Nintendo portable handheld games. It was released on the 23rd of May, 2013 and is based on the
Tamagotchi! Yume Kira Dream
anime series. In this game, you play as one of various tamagotchi characters at a time working in dream stores which you must grow and expand helping each store gain popularity.
Characters
Trivia
Gallery
Ad blocker interference detected!
Wikia is a free-to-use site that makes money from advertising. We have a modified experience for viewers using ad blockers

Wikia is not accessible if you've made further modifications. Remove the custom ad blocker rule(s) and the page will load as expected.