Tamagotchi Friends
Comments

24
1,144pages on
this wiki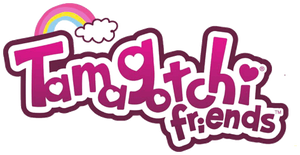 Tamagotchi Friends (abbreviated as "TF" or "TMGC Friends") is a virtual pet toy of the Tamagotchi franchise, that released in the UK on December 26, 2013. The RRP is £24.99 (equal to about $40USD). It is currently already available in Spain, Poland and the UK and will be released in Belgium, Germany, and France in January and February 2014. It will also be available in the US in June 2014, and its RRP is $19.99 USD. A new website released on November 23, 2013.
According to the advertisement, Bandai UK will be highly promoting this new Tamagotchi on television, online, and more.
Features
Retained Features
The layout featured on the Tamagotchi Friends is similar to that of the TamaTown Tama-Go. It is 3D and features the four-shade black and white screen, has similar sound effects and similar room backgrounds which change over time. It features 24 of the characters from Dream Town, all who first appeared on the Tamagotchi P's.
Users are able to use Gotchi Points to buy meals and snacks. This version retains the Tama-Go's park feature where a user's Tamagotchi can visit and play with other characters. The only difference is that unlike the Tama-Go, the characters at the park are not raiseable.
There are five games on Tamagotchi Friends which are retained from previous Tamagotchi.
New Features
Tamagotchi Friends features a new method of communication called "near field communication," that allows two toys to interact when touched back to back. This method is called "bumping." By doing this, players can visit their friend's Tamagotchi, exchange presents, send messages, and earn Gotchi Points.
Jewellery acts as a new secondary currency and can be collected through purchasing it at shops, bumping with friends or when the character evolves. Jewellery comes in categories each with its own style such as tiaras or necklaces.
Only three games are unlocked at the start, the other two can be unlocked by collecting 30 jewelry items and filling the BFF meter to halfway. It is increased through bumping with other Tamagotchi Friends.
The size of the sprites have also changed; the adult characters' sprites are now bigger at 20x20 pixels instead of the previous 16x16 pixels. Also, the Tamagotchi Friends contains 36 characters (including 24 adults), most of them previously only raisable on Japanese Tamagotchis. Tamagotchi Friends is the first and currently the only release that featured Tropicatchi.
Games
Drop Catch
Press A to move the open bag left and press C to move it right. Catch the music notes, but don't catch the poops or the game will be over.
This game is based on the originals from Keitai Kaitsuu Tamagotchi Plus, Tamagotchi Connection Version 3 and Tamagotchi Connection Version 4.
Select Get
Collect the right amount of the given icon. Press A to select and B to confirm, and press C to be given a new selection of icons to choose from.
This game is retained from the original featured on Tamagotchi Connection Version 4.
Mimic
Another Tamagotchi character will pose, and players must press any button to stop their character at the matching pose.
This game is retained from the original featured on Tamagotchi Connection Version 4.
Flower Count
A car will collect and drop flowers, and players must keep track of how many remain on the bus. Use A and C to change the number, and press B to confirm.
This game is based on the originals from Tamagotchi Connection Version 4 and Tamagotchi Connection Version 4.5.
Cake Catch
Pick up the correct cake. Press C to scroll through the cakes faster and press B to lower the claw.
This game is retained from the originals featured on Tamagotchi Connection Version 4, Tamagotchi Connection Version 4.5 and Tamagotchi Music Star.
Characters
The Tamagotchi Friends has 3 eggs, 2 babies, 4 children, 6 teens, and 24 adults.
Babies
Children
Teens
Adults
Non-raiseable/Other
Website
The Tamagotchi Friends website has character profiles, news, products, and webisodes based on the Tamagotchi! Yume Kira Dream anime. It will also have mini-games and a new TamaTown based on Dream Town.
Design
The design of Tamagotchi Friends strongly resembles the Tamagotchi iD L. It comes in six different designs: plain red, plain blue, plain purple, brown-spotted white, heart-print pink, and animal-print blue. Each device has a Tamagotchi Friends logo above the screen and the A-B-C buttons below the bottom. The device is somewhat large compared to the other Tamagotchis and has a weight ranging between that of the Tamagotchi iD L and the TamaTown Tama-Go. It is about the same size as a Tamagotchi Plus Color except its back is round instead of flat. The game also requires two AA batteries to operate.
US Design
It was revealed at a Toy Fair that six new Tamagotchi Friends designs will be available for the US. The designs are: Blue with a white starry faceplate, pink with a black and white dotted faceplate, purple with a jewelry-themed faceplate, and three new iD L-like designs. The iD L-like designs now have silver faceplates with a painted rim that is a darker shade of the Tamagotchi's shell color.
The US design also contains a different background; there are colored patterns behind the icons.
The six UK designs have also been seen containing the new background. It is unknown whether this means the UK designs will also be released in the US, or that the UK release will be updated with the new backgrounds.
Icons
Stats: View the Tamagotchi's hunger and happiness, age, weight, and generation. Users can also view the character's name, how many Gotchi Points they have, and the "BFF Points".
Food: Feed the Tamagotchi meals or snacks. The default meal is bread and the default snack is milk. More food can be bought at the shops.
Toilet: Clean up the Tamagotchi's mess.
Door: Includes games, shop, park, and PC. Chuukatchi's shop sells meals, Cafe Mama's shop sells snacks, and Kiramamatchi's shop sells jewelry. The park is where users can play with other Dream Town characters that are not raisable on the Tamagotchi Friends.
Connecting: Interact with another Tamagotchi Friends using the "bump" feature. Users can only bump 5 times a day and it is counted on the clock screen with 5 hearts; one heart disappears with each bump.
Mail: Send or receive messages, and view the inbox and drafts.
Chest: View jewellery that has been bought from the shop.
Book: View the friends list and history.
Medicine: Cure the Tamagotchi when it is sick
Attention: Lights up when the Tamagotchi needs care.
Merchandise
There will be collectible Tamagotchi figures and playsets soon to release in the UK, and they will release in the US later in 2014.
Character Packs
The character packs contain a single figure with a moveable head. The SRP is $3.99USD. There are six to collect:
Character Plus Packs
The character plus packs contain a single figure with a moveable head, and a few small play pieces which match with each character. The SRP is $5.99USD. There are four to collect:
Dream School Classmates Multipack
The Dream School Classmates Multipack consists of exclusive figures with moveable heads. Each character represents a class of Dream School - Music, Beautician, Robot, Chef, and Performance. The SRP is $16.99USD. The packaging allows storage of the figures and it also serves as a carry-case. There are five figures in the multipack:
Dream Town Music Café Playset
The Dream Town Music Café Playset is a large toy building based on Music Cafe. It comes with various play pieces such as toy tables, chairs, dishes, and a smapi. There is a chair that can hold two figures, and moving the music note-shaped lever will make the chair swing. The playset also comes with an exclusive Pianitchi figure.
Dream Town Playsets
The Dream Town playsets are smaller than the Music Cafe playset. There are two different ones, each containing an exclusive figure and a few play pieces.
Performing Arts Stage - Comes with a Yumemitchi figure, but in this case she is wearing her idol outfit. The playset also includes a microphone and a keyboard.
Tamamori Accessory Shop - Comes with a Kiramotchi figure, and three Tamamori accessories.
Webisode Series
A webisode series of Tamagotchi Friends is also available. The series is mostly based on the second Japanese Tamagotchi! anime, Tamagotchi! Yume Kira Dream. The majority of the webisodes featured portions of major scenes from the anime put together and dubbed in three languages in all; English, French and German.
List of Webisodes
Episode 1 (January) - Welcome to Dream Town
Episode 2 (February) - Kiraritchi and Yumemitchi
Episode 3 (March) - The Arrival of Himespetchi
Episode 4 (March) - Dream Town Tour
Episode 5 (April) - Choosing a Dream Class
Episode 6 (April) - Tea Robot
Webisode Gallery
Gallery
Trivia
The near field communication is a common wireless feature mostly seen on smartphones.
Some characters' names have been changed on this version.
External Links
References