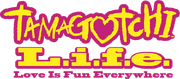 Tamagotchi L.i.f.e.
(Love Is Fun Everywhere) was a brand of Tamagotchi mobile apps and accessories. It was distributed by
Sync Beatz Entertainment Inc.
It was labeled under a "Lifestyle brand" consisting of apparel, home décor, furniture, and many other novelties, primarily aimed at women ages 20–29. The brand also has fashion style webisodes produced by Anz Falcon. There was no specified release date for any of the products. In 2014, child actress Jennette McCurdy was named the official brand ambassador.
An app for Android based on the original Tamagotchi was released in early 2013, followed shortly after by a version for iOS. Version 1.2.0 of the app brought an option to play the second generation. An adaption of Tamagotchi Angel launched on February 26, 2014, along with a new minigame app Tamagotchi L.i.f.e. Tap and Hatch. Both apps are no longer available since December 15, 2014, though the apps themselves still function if they had already been installed.
The brand was officially discontinued in January 2015, with the website thanking fans for their support and redirecting them to the Tamagotchi Friends site.
Web Site
The Tamagotchi L.i.f.e web site contained a home page about the story behind Tamagotchi L.i.f.e. It also had a "Heroes" section with people who were nominated in the hometown heroes contest. There was a link to download the apps, as well as a blog with fashion and décor tips. Furthermore, there was a "Stories" section where people could upload stories about memories of their Tamagotchis. There was a Tamagotchi L.i.f.e shirt poll where people can vote for their favorite shirt in each set. There were 5 sets with 3 shirts each.
Apps
Classic Tamagotchi
The Android application based on the original Tamagotchi was released in early 2013, and an iOS version followed shortly after. The app was available for free, only in US and Canada; the only in-app purchase is to remove the in-game advertising banner for $0.99. It is a direct port with all of the functionality of the original toy, with several additional features.
The app includes a "Color Mode" where the view can be changed to view the pet with a larger, colorful sprite. Adults have three color variations, and for each character (and their variants) raised, the user earns a star. As the user accumulates stars, they unlock new shells (for the virtual pet viewing mode) and backgrounds (for the color view mode). The shells and backgrounds are different for generations 1 and 2. Additionally, Color Mode offers a different game to play from the normal game. For generation 1, the game is "Rock, Paper, Scissors", while generation 2 has a card-matching game.
The app also includes background music, which may be toggled on or off. The app can be connected to Facebook, allowing users to share their Tamagotchi's progress across social media. The app also has push notifications, so the Tamagotchi can call for attention even when the app is not actively running.
For Android, the app was split into three different versions: "Tamagotchi Classic", which features generation 1; "Tamagotchi Generation 2", which featured solely the generation 2 characters; and "Tamagotchi L.i.f.e.", which features both generations.
After the brand's discontinuation, the first generation app was later re-released as Tamagotchi Classic. The original version of the app is incompatible with iOS 11 or later.
Tamagotchi Angel
An adaption of the Tamagotchi Angel was released as a second app on February 26, 2014. It includes the same functionality as the first Tamagotchi L.i.f.e. app, and includes several Angel shell designs unique to the app. The full-color mode includes a new game where the user must tap 20 stars in order before the timer runs out. Cactus Angel is featured prominently in promotional artwork and can be found in the game data, but only Smiling Angel can be obtained through normal play.
The app has yet to be re-released, and the latest version is incompatible with iOS 11 or later.
Tamagotchi L.i.f.e. Tap and Hatch
See Tamagotchi L.i.f.e. Tap and Hatch
Reception
The original Tamagotchi app has been downloaded over 3 million times on both Apple and Android deices, and has generally positive reception by many major gaming news websites. All three apps currently score 4.5 stars out of 5 in the iOS app store, and scores on the Android market average at 3.8.
Criticism
When Tamagotchi L.i.f.e. was first announced, the Tamagotchi fanbase reacted generally negatively, citing the heavy marketing towards older women, merchandising, and lack of any new, major Tamagotchi content.
After the release of the first webisode on YouTube, there was a major backlash from the Tamagotchi fanbase for not having content relevant to Tamagotchi, eventually leading to comments on the video being disabled.
Gallery
External links
Ad blocker interference detected!
Wikia is a free-to-use site that makes money from advertising. We have a modified experience for viewers using ad blockers

Wikia is not accessible if you've made further modifications. Remove the custom ad blocker rule(s) and the page will load as expected.