Tamagotchi Ocean
Comments

0
895pages on
this wiki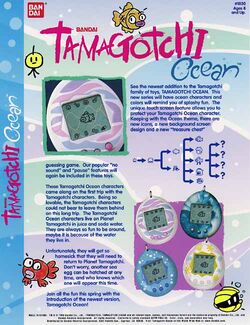 The Tamagotchi Ocean (海で発見!たまごっち, Umi de Hakken! Tamagotch, meaning Ocean Discovery! Tamagotchi, also known as the Oceangotchi and Umino Tamagotchi or Umi No Tamagotchi) is a ocean life-themed Tamagotchi released in Japan in 1997, and later in America in spring 1998. The Tamagotchi featured a motion sensor, similar to the Tamagotchi Angel, which was used to scare underwater predators away. It is said to be the toughest Tamagotchi to take care of.
The Tamagotchi Ocean features a motion sensor to scare away polar bears and a water quality screen in the status meter which shows how good the quality of water is. Water quality is denoted by four skulls. The more skulls black, the worse the water. If any skulls are black the user has to "flush" the screen to keep the water quality high. The polar bear makes appearances nearly once every hour while your Tamagotchi is napping, and many people have trouble with the sensor detecting the tapping, even if they are doing it very hard. The Tamagotchi on this version can die from being fed a few snacks, as well.
Characters
Edit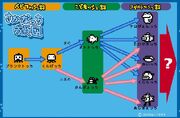 The characters are ocean-themed.
Baby Characters
Child Characters
Teenage Characters
Adult Characters
Secret Characters
There is only one game on this Tamagotchi. It is a guessing game in which you have to guess which chest the treasure is hidden in. You have to guess five times. If you get at least 3 right you win the game and your Tamagotchi becomes happier. Occasionally there is an octopus hiding in the chests that squirts ink, dirties the water, and empties all of the Tamagotchi's happy hearts. In this case, even if the screen goes completely black, you can re-play the game right away. This is recommended in order to refill the hearts as soon as possible. You can flush the water four times to clear the black skulls after you're done with the game.