Tamagotchi Plus Color
Comments

0
1,109pages on
this wiki

The Tamagotchi Plus Color (たまごっちプラスカラー, abbreviated TMGC+C) is a the first Tamagotchi to have a full-color LCD screen. This release is a Japan exclusive. The TMGC+C was released on November 22, 2008, and sells for 5040 Japan Yen (on YesAsia 83 USD, 55 GBP, 133 AUD, 7 897 JPY). An early release was held on November 16, 2008 at both TamaDepa stores in Japan, where fans could purchase the TMGC+C a week early.
Design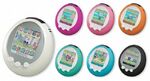 The shell is larger than previous versions, with a covered screen similar to the TamagoChu. It no longer features the classic "cracked" appearance surrounding the screen, but it does feature the "cracked" appearance on the back battery cover around the word "Bandai." But it does maintain an infrared at the top of the shell. Eleven colors are available. The first wave includes White, Black, Pink, Magenta, Green, Blue, and Orange. The second wave of designs were released March 20, 2009, and include Yellow, Navy, Green + White, and Cream + Pink. The TMGC+C also features a full-color liquid crystal display screen, much different from previous versions. The screen itself is a 1.52 inch color TFT screen with 128 x 128 pixels. There is also an "Exile" verison based on a Japanese band and a "Hexagon" version based on a Japanese game show. Both of these versions come only in red and white. The "Exile" version has the exact same programming as the normal TMGC+Cs but the "Hexagon" has different games, characters, item, food, etc. It is also known as the "Hexagontchi."
Functions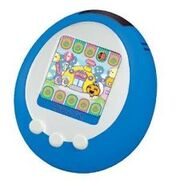 Door
Replacing the Game function is a new icon of a door. At this icon, the Tamagotchi can leave their house to visit various places. Some destinations will always be available, and some which become available as the character ages, while others can only be visited with transit passes purchased at stores (after which the ticket can be used at any time). Some destinations are as follows.
Game Center, where the character can play any one of three games, including:
Tamatama Market, where items can be purchased. A yellow pass bought here unlocks more locations.
Home Remodeling Center, where you can get different rooms of your home redecorated.
Playground, where the Tamagotchi can meet other characters.
Prize Redemption Center, where you exchange prize tickets.
Matchmaker, where the user can visit Otokitchi and request to mate.
Amusement Park, where the character can visit a theme park and go on a ride. A yellow pass from the Market is required in order to visit.
TamaDepa , an expanded version of the Market. A yellow pass from the Market is required to go here, and TamaDepa sells white and green passes to unlock more locations.
Temple, involves the Tamagotchi praying and receiving a fortune. A white pass is required to visit.
Celebria is a movie theater, where the Tamagotchi stars in a film. A green pass is required to visit.
Gotchi King's Castle, where one plays a game involving catching money and hearts. All 7 Lucky Items must be found and happiness must be full before this can be unlocked.
Shower
As time goes on, a Tamagotchi character may become dirty. When they appear a dark-brown on-screen, the Shower function is used to clean them off.
Trees
A tree can be planted outside the Tamagotchi's home, and if the tree fully grows, it will produce items.
Happy Bar and Happy Items
When a Tamagotchi is born, the Happy meter is now represented by a bar instead of hearts. The bar starts off as 10 colums long, but can be enhanced to 80 colums long, increasing the time it takes for the Tamagotchi to become unhappy. To do this, there are 7 objects found in-game that make a bar automatically add to the Happy Bar. The items are:
Rainbow - Use the Rainbow Watering Can on a partially cloudy day. Occurs by chance
Shooting Star - Use the Telescope on a clear night. Occurs by chance
Four-Leaf Clover - Use the Magnifying Glass, just after planting a seed on a partially cloudy day. Occurs by chance
"Winner" Popsicle Stick - Eat Ice-Candy On-a-Stick. Occurs by chance.
Stem Floating Upright in Tea - Drink Japanese tea. Occurs by chance.
Heart-Shaped Cloud - Appears in the sky on a partially cloudy day. Occurs by chance.
Hapihapitchi - Use Hapihapi Seeds to grow a tree, and eat a resulting Candy Heart.
All the items, except HapiHapitchi, Occur randomly. It is usually necessary to use each item more than once, or in the case of the heart shaped cloud, if the player goes back inside and goes outside again, the cloud may appear. Note: Many partially cloudy days are also followed by a clear night. There is a good chance of this happening.
Weather
Weather is a factor that determines what items may be used or where a Tamagotchi may go at any given time. Weather is based on the current given month, as well as the time of day. Weather ranges from sunny, to storming, to snowing. In strong rainstorms, the Tamagotchi will refuse to use the Door function. On partially cloudy days, several Happy Items can be found, including the Rainbow, Four-Leaf Clover, and Heart-Shaped Cloud.
List of Characters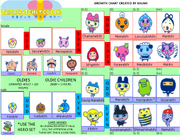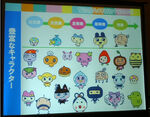 Baby Characters
Two new baby characters appear on the Tamagotchi Plus Color. They both resemble mushrooms, with minor differences between the two. Their names both originate from "kinoko", which means "mushroom".
Kinotchi - The male baby. Has a blue mushroom top and a beak.
Nokotchi - The female baby. Has a pink mushroom top and eyelashes, but no beak.
Child Characters
Teen Characters
Adult Characters
Senior Characters
Special Characters
Oyajitchi (Tamagotchi (1996), Tamagotchi Plus)
Cameo Characters
Characters That Appear During Walks
7:00 AM - 9:59 AM - Guidetchi will tell how the weather will be that day.
10:00 AM - 5:59 PM - Random character talks or plays with the Tamagotchi. Possible characters include:
6:00 PM - 9:59 PM - Mr. Turtlepedia tells tips and tricks.
Special Editions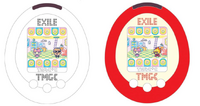 There is a special edition of the TMGC+C, featuring characters based on the Japanese band Exile. The special release is known as the EXmotchi (エグモっち). There are two designs: one white, and one red. Both feature the name "EXILE" at the top, with "TMGC" written just above the buttons. In addition, users can access the EXFAMILY site, which will give users a special item: a bag of seeds, which grow trees that produce love letters.
External Links