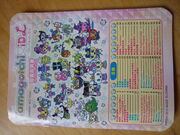 Tamagotchi iD L
(
たまごっちアイディーエル
Tamagotchi Aidī Eru
) is a virtual pet toy based on the anime
Tamagotchi!
. It follows the Tamagotchi iD franchise and is preceded by the Tamagotchi iD Lovely Melody Version, and features new characters.
The L stands for many words - Life, Link, Live, Love, Leader and Limited. They come in many colors; pink, yellow, blue, white, green, and purple. The standard price is ¥5,040 (tax included), but it can range depending on where it is bought. The Tamagotchi iD L also comes with an instruction manual printed in full colour.
One of the new features is a Tama Pet, that can be found, played with, and then adopted at Donut Park. There is also a flea market and morning market at Donut Park where users can sell and buy items at good prices. During the first day of each month, when users go to Donut Park, it is 'Cleaning Day'. The Eco-usatchi Triplets will give users an eco-item when their character meets them. The eco-items can give users benefits when purchasing food and buying items.
Just like the
Tamagotchi iD
, the iD L is able to download extra games, items, clothing, etc. via infared from tama-ID-L.com

This Tamagotchi has also been translated to English by Bandai Asia, and sold in China in 2012. The English version packaging of the Tamagotchi iD L are white, and are also available in all 6 colors.
Users can raise their adult Tamagotchi to a Tamatomo level by collecting all four joy stickers. Each adult character has its own specific favorite food, item, and clothing; using them will allow users to obtain three of the joy stickers. The final joy sticker is obtained automatically when the Tamagotchi has been an adult for 48 hours.
Characters
Baby Stage
Female
Male
Child Stage
Female
Male
Teenager Stage
Female
Male
Adult Stage
Female
Male
Tama Pets
Unraisable Characters
Features

Locations
Other releases
Tamagotchi iD L SPOT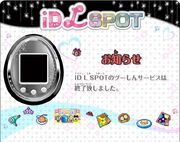 The Tamagotchi iD L SPOT (a sequel to the Tamagotchi iD SPOT) is a special black and silver version of the Tamagotchi iD L, only available in toy stores across Japan working as a connection device to an iD L when connected the owner's tamagotchi will receive limited edition download items acting like a Tamagotchi version of the Tamagotchi Station or link TMGC station as the iDL station was referred as. Being counted as an official Tamagotchi version yet not purchasable it and the iD SPOT are of the rarest Tamagotchis in existence.
Tamagotchi iD L 15th Anniversary Version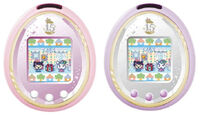 The
Tamagotchi iD L 15th Anniversary Version
(
たまごっちアイディーエル 15周年特別バージョン}Tamagotchi Aidī Eru 15 Shuunen Tokubetsu Bājon
) is the limited edition fifteenth anniversary Tamagotchi iD L. It comes in two colors, Royal Pink and Royal Purple, and has 11 new characters added and replaced. It was released on the 23rd of November, 15 years after Tamagotchi first debuted.
New added characters
Boys
Girls
Tamagotchi iD L Princess Spacy ver.
Main article: Tamagotchi iD L Princess Spacy version
Tamagotchi iD L Princess Spacy ver.
(
たまごっちアイディーエル プリンセススペイシーバージョン
Tamagotchi Aidī Eru Purinsesu Supeishī Bājon
) is based around the new main Tamagotchi character,
Himespetchi
. A similar character-based version is the
Tamagotchi iD Lovely Melody ver
. It was released in March 2012, and only comes in a black and pink shell.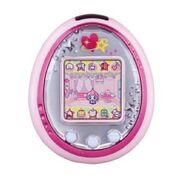 New Added Characters
New Added Pets
Gallery
Also see
External Links
Ad blocker interference detected!
Wikia is a free-to-use site that makes money from advertising. We have a modified experience for viewers using ad blockers

Wikia is not accessible if you've made further modifications. Remove the custom ad blocker rule(s) and the page will load as expected.