Himespetchi

– I LIKE TAMAGOTCHI!




TALK

Hello! Welcome to my profile :D
About Me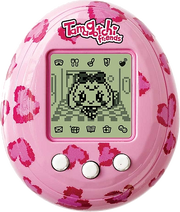 Hellloooooo! I am a 15-year-old girl and I live in Australia. :) I have been a huge fan of Tamagotchi since I got my first one, a Version 4, on my 8th birthday. Today, I have become an avid fan of the Tamagotchi anime and I also have 27 virtual pets and various Japanese merchandise. My favorite characters are Mametchi and Himespetchi but I do not like Kuchipatchi. In my spare time I play with Tamagotchis, draw Tamagotchis, write about Tamagotchis, browse Tamagotchi web sites, and you get the idea. ;)
So yeah...if you want to talk about something you can leave a message on my talk page. You can ask me anything, even my weight, which is 143 pounds. <_<; Anyway I guess I can translate Japanese for you but it takes me a long time and I've made several mistakes because I'm just casually self-teaching myself so you might have better luck with Tama-Star_Girl. But you can still ask me if you want because it might be good practice for me, haha.
Ummm...what else...I like cats so much <3 <3 <3
AND I AM SO EXCITED FOR TAMAGOTCHI FRIENDS! **screams loudly**
And that's it :P
Userboxes
My Collection
Now here's a lame-o video of my collection with captions because I speak an entirely different language. Technically.