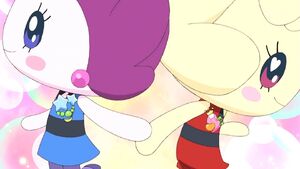 Yume Kira Impression! D2 Are Fast Approaching!! (ゆめキラ感動!D2に急接近!! Yumekira kandou! D2 ni kyusekkin) is episode 11 of Tamagotchi! Yume Kira Dream and episode 154 overall. It aired on November 26, 2012. The creator of the episode is Fudeyasu Kazuyuki.
Plot
Kiraritchi and Yumemitchi were left in charge of managing the Kirakira Tamamori Shop. Then, two customers came in and they surprisingly looked familiar. Meanwhile, robotics class creates a machine and have yet to test it out.
Cast
Main
Secondary
Gallery
Main Article: Tamagotchi! Yume Kira Dream/Episode Gallery/Episode 11 (154)
Ad blocker interference detected!
Wikia is a free-to-use site that makes money from advertising. We have a modified experience for viewers using ad blockers

Wikia is not accessible if you've made further modifications. Remove the custom ad blocker rule(s) and the page will load as expected.